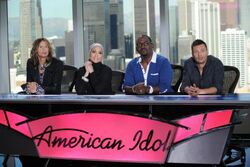 Season 11 of American Idol is just around the corner and the judges Jennifer Lopez, Steven Tyler, Randy Jackson and Ryan Seacrest are all coming back! This is just after J.Lo got a huge payraise and Tyler was reported as being discontent with his salary (in the millions) in comparison to Lopez's deal.
Will you be watching Season 11 with the judges in tow? Do you approve of the new judges or have you peaced out since Simon Cowell and Paula Abdul left?
Source
Ad blocker interference detected!
Wikia is a free-to-use site that makes money from advertising. We have a modified experience for viewers using ad blockers

Wikia is not accessible if you've made further modifications. Remove the custom ad blocker rule(s) and the page will load as expected.