One final down, two more to go.
This week the girls sang three songs. There has not been a single performance night that lasted only an hour. I miss the one hour shows. They didn't make me wish for sweet death.
I'm on a Game of Thrones high, so there will be random quotes here and there.
Kree the Janitor
Jimmy Iovine's Choice: "Fuckin' Perfect" by P!nk
This was such a fucking weird song choice for Kree, especially since I knew she wouldn't swear. I honestly feel that the version with the swearing is a lot more heartfelt and sincere. Kree seemed very nasally and flat, and she fudged up the words twice. Overall, the performance was lackluster. P!nk sings the shit out of this song every time. I feel like Kree didn't even try.
Nicki said the quality of her voice was filled with such quality. I laughed. Randy didn't love the song choice for her.
Grade: D-. Stay away from my favorite music and you won't give me reason to hate you. Plain and simple.

"There is only one god, and his name is Death. And there is only one thing we say to Death: 'Not today'." ~ Syrio Forel
Judge's Choice: "Here Comes Goodbye" by Rascal Flatts
This was written by Chris Sligh, season six finalist and VFTW supporter. I remember he was funny when he was on Idol. Kree showed just how weak her voice is with this song. Her upper register is very thin. I feel like she half-screams out some of those high notes.
Randy called this the best top three ever and I beat my head against the wall.
Grade: D-. She's boring. Can she go home?

"Yes, all men must die. But we are not men." ~ Daenerys Targaryen
Producer's Choice: "Better Dig Two" by The Band Perry
Right away, Kree seemed dead behind the eyes. Her high notes were off key again.
Nicki said the producers should be stoned. Well said, Nicki.
Grade: D-. She's going home this week, isn't she?

"I am Arya Stark of Winterfell, and if you lay a hand on me my father will have both of your heads on spikes. Now, are you going to let me by, or do I have to smack you on the ear to help you with your hearing?" ~ Arya Stark
Furious Face Candice
Jimmy Iovine's Choice: "One" by U2
What is with the weird song choices tonight? Usually Jimmy is smarter than this. Candice decided to completely disregard the melody and sing in a completely different key in places. I don't understand what possesses her to do that. I mean, can't she hear what she's singing? I also thought the key was a little too low for her. She could've done it half a step higher.
Nicki loved the song choice. She's either drunk or high tonight.
Grade: FAIL. Candice oversings all the time but this was flat-out terrible.

"Madness and greatness were two sides of the same coin and every time a Targaryen was born, the gods would flip a coin in the air and the world would hold its breath to see how it would land." ~ Cersei Lannister
Judge's Choice: "Next to Me" by Emeli Sandé (who?)
I have never heard this song before, so I expected another ballad. Then the beat picked up. Candice didn't move around much, though. A couple of her runs were off-key, but overall, this was a much better performance than her first song.
I tuned the judges out because they're not interesting.
Grade: B+. Not as good as last week, when she got her first A, but still good.

"Never forget what you are. The rest of the world will not. Wear it like armor, and it can never be used to hurt you." ~ Tyrion Lannister
Producer's Choice: "Somewhere" from West Side Story
Apparently, when the producers look at Candice, they think West Side Story. I hate this show. And good God, this was terrible. This is a prime example of a song that doesn't need runs or oversinging. But Candice does it anyway. Her last note was painful.
The judges pimped her to the moon and I turned off the video. Shut up.
Grade: FAIL. Can they all go home? That'd be an awesome shocker elimination. "No one wins this year. You all suck. Go home."

"What sort of imbecile arms an assassin with his own blade?" ~ Tyrion Lannister
"Shall I gag him?" ~ Rodrick Cassel
"Why? Am I starting to make sense?" ~ Tyrion Lannister
Angie Big Hair
Jimmy Iovine's Choice: "Sorry Seems to Be the Hardest Word" by Elton John
This was a snoozefest. She hit a couple painful high notes in the chorus. I tuned out most of it.
The judges droned on and on about her. *zzzzzzzzzz*
Grade: FAIL. You're boring, too. Go home.

"I am a Khaleesi of the Dothraki! I am the wife of the Great Khal and I carry his son inside me! The next time you raise a hand to me will be the last time you have hands!" ~ Daenerys Targaryen
Judge's Choice: "Try" by P!nk
Lots of P!nk tonight. Believe it or not, P!nk is a hard artist to sing. She has a very strong, gravelly alto voice. She sings the hell out of all her songs. I can't say the same for Angie. She was very shouty throughout the chorus. The song ended kind of suddenly, too.
Nicki was over the moon about her. I think she's high. Randy called her Miley Cyrus. Yep, sounds about right.
Grade: D-.

"I do not distrust you because you're a woman. I distrust you because you're not as smart as you think you are." ~ Tywin Lannister
Producers's Choice: "Maybe" by Emeli Sandé
Angie went back to the piano. Some of her higher notes were flat. She tried to make it one of those memorable performances but it didn't work at all.
The judges went back to loving her on piano.
Grade: D. This was the song she wasted the piano on?

"When you play the game of thrones, you win or you die." ~ Cersei Lannister
In the results show, Angie was sent home. The VFTW tweets said that Angie was bawling hysterically and couldn't sing, which sounded pretty funny so I checked it out. Hot damn, that was funny stuff. Almost as funny as when Rachel Crow got kicked off The X Factor and had a Hall of Fame meltdown.
And now to switch gears completely, here's another video clip. Ariana Grande is one of my favorite singers. She's incredibly talented for someone who's only 19 (she's also a Broadway veteran). She was featured in Mika's "Popular Song". And if you're a fan of musical theatre like me, you might recognize the chorus.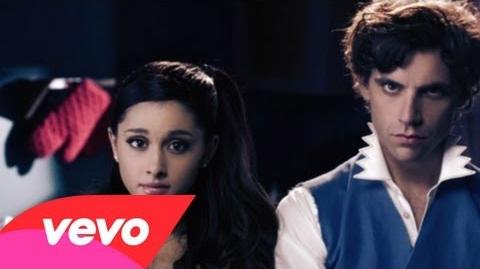 Next week is the end. FINALLY.
Ad blocker interference detected!
Wikia is a free-to-use site that makes money from advertising. We have a modified experience for viewers using ad blockers

Wikia is not accessible if you've made further modifications. Remove the custom ad blocker rule(s) and the page will load as expected.