Bear in mind that just before I watched this episode, I watched the Les Mis Oscars performance for the millionth time and it made me cry for the millionth time (you know, Anne Hathaway being flawless, Samantha Barks stealing the show from Amanda Seyfried and Eddie Redmayne, Aaron Tveit and his Enjolras swagger, and the breathtaking background choir). And now I have to lower my expectations for this while I'm still singing it in my head. :P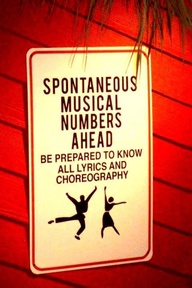 Seacrest is out by the pool in the cold open so he obviously has to make some kind of water pun (and does). He also mentions after the guys are announced that the contestants were allowed to pick any song they wanted for the semifinals, which I know is a lie. There have been times in the history of the show where the producers were unable to get permission to use certain songs on the show (and because of that, several audition scenes had to be reshot so the contestants could sing something else and they could pass it off as their audition song).
Mathenee Treco - "A Little Less Conversation" by Elvis Presley
Mathenee is a reject from last season. Why does Idol keep recycling its rejected contestants? Can they seriously not find any better talent around the country? Mathenee is a choreographer, which makes me hope he'll pick something uptempo and dance. And lo and behold, he does! I doubt that he actually picked this, though (who would voluntarily sing "A Little Less Conversation", out of all the songs in the world?). He's gasping for air in places, and his higher register sounds better than his lower register. He's a little off-key in places and the falsetto was iffy as are some of his runs. His dancing is... um... not what I thought it would be. Just a lot of bouncing.
After his performance, I see Zoanette cheering and waving her arms around in the audience. Love you, Zoanette!
Keith liked that he sang an Elvis song in Vegas. Nicki said he shouldn't try to please people (WHAT?! That completely defeats the purpose of the show!), and channeled her inner Simon by saying the performance wasn't current and calling it karaoke and cheesy in a British accent. Randy didn't like the song choice (to which I yelled, "DO YOU ACTUALLY THINK HE CHOSE THAT SONG? REALLY?"). Randy asks him who he is and Mathanee says he's classic rock and hip-hop (huh?).
Grade: C+. He picked something uptempo and attempted to give a performance, which I guess counts for something. But it wasn't enough for me.
♪ Suddenly you're here, suddenly it starts... ♪
Gurpreet Singh Sarin - "Nothing Ever Hurt Like You" by James Morrison
Again, who believes Gurpreet willingly chose this song? He's off-key a lot and despite the beat and tempo, I'm getting bored. His voice is really just okay (if I'm being generous) and nowhere good enough to be on this show (like a bunch of other people, too). He ends with an Idol-trademark glory note and some scatting. Side note: his turban matches his pants.
The judges wanted him to bring out his guitar (thereby eliminating every WGWG on the show). But they didn't like him at all. He kept saying if he made it through, he would do things differently. Not gonna happen.
Grade: FAIL. Plain and simple.
♪ One day more, another day, another destiny... ♪
Vincent Powell - "Cause I Love You" by Lenny Williams (who?)
Vincent is a worship leader and has sung back-up for Whitney. I call PLANT! Then he sings an R&B ballad. Oy. His falsetto is shrill and off-key. He's trying to do too much with this song. He can't seem to stay in tune for six lyrics. That glory note towards the end was especially awful, though. And yet the judges were on their feet. Good God.
Nicki seems to have a fetish for Vincent's bald head. Ryan went to Zoanette and gave her the microphone so she could yell, "GET IT PAPA SMURF!" Can we replace Ryan with Zoanette?
Grade: D. Even Ryan praised him for the off-key glory note. What's the matter with people on this show?
♪ Tomorrow you'll be worlds away... ♪
Nick Boddington - "Why Don't You Say Something?" by James Morrison
Nick sings some ballad I've never heard of and right away his high notes are off-key. His voice is not strong or powerful enough to pull off singing that high. It just sounds whiny and shrill. He tries to create big moments in the song but those are off-key too. (At this point, I was four singers in and I needed a break, so I went to get a taco in the dining hall.) This guy is just BO-RING.
The judges were iffy about him. Randy rambled on about song choice again and I yelled at my laptop about how much of a moron Randy is.
Grade: D+. I'm 90% sure if you took away his hat, he would look like Nosferatu.
♪ One more day with him not caring (I was born to be with you)... ♪
Josh Holiday - an original song
Josh starts at the piano and he sounds pretty good. His voice quivered a little and went a little flat on a couple notes. He sounds kind of breathy and his voice gets drowned out by the band when the music starts to pick up. Then he gets up from the piano (bad idea). And he goes off-key again. Part of his falsetto is also off-key, and he's running out of breath. The last note is also off-key.
Keith mentions that Josh is a vocal coach and I laugh. Then he says Josh had control with his falsetto and I laugh again. Nicki's critique is booed and she gets pissed WHO THE FUCK IS BOOING I WILL CUT YOU. Hahahahaha, I love it.
Grade: D+. I'm about to snooze again.
♪ One more day before the storm (do I follow where she goes?)... ♪
David Oliver Willis - "Fever" by Peggy Lee
David is another worship leader. He speeds up "Fever" to a quicker tempo and adds a couple gospel elements, which I'm not entirely sure if it works. His voice is okay, but not outstanding. But the performance has no emotion whatsoever. "Fever" is a very sultry song and his arrangement took all of that out. But then again, he's a worship leader, and how is a worship leader supposed to be sexy and sultry on national television? It reminds me of season seven when some country hick put a hoedown twist on "Eight Days a Week" by The Beatles and it just didn't work. It was the most horrific Beatles cover I'd ever heard.
Nicki mentions David is married (which would've lost him potetial tween votes, but he's a worship leader so they already don't care about him).
Grade: D. Turning "Fever" into a gospel song is like turning "Bad Reputation" into a ballad. Just... no.
♪ The time is now, the day is here... ♪
Bryant Tadeo - "New York State of Mind" by Billy Joel
Bryant is the first Hawaiian contestant since season three (I think). And those Hawaiians from season three did not bring it. At all. Bryant sings a ballad and I hang my head. When will the ballads stop? He definitely has a big voice, bigger than a lot of the guys this season. But he lacks a lot of control, he was off-key for most of the song, especially when he tried to oversing.
Nicki liked the last note, and that was it (I actually agree with her).
Grade: D-. He was so forgettable that I was about to publish this without a grade.
♪ One day more to revolution, we will nip it in the bud... ♪
Burnell Taylor - "This Time" by John Legend
Burnell has TWO sob stories, one about losing a lot of weight and another about his house being demolished in Hurricane Katrina. The first note of his song is off-key. He's very whiny and off-key on his higher notes. His voice gets drowned out by the band because it's not strong enough to be heard over it. I can still hear him overdo the melisma, though. And he has really funny jazz hands.
Keith seems to like everyone. I'm getting bored with him.
Grade: D. Can the show have a "no ballads" theme week? Just so I'm not on the verge of falling asleep for one episode?
♪ One day to a new beginning, do you hear the people sing... ♪
Lazaro Arbos - "Tonight I Wanna Cry" by Keith Urban
Lazaro apparently has a stutter. Ryan mentions Lazaro is singing a Keith Urban song and I groan. Can you not? And didn't someone else sing this song already? Lazaro is off-key all over the place. His voice dips a lot. Then he starts singing louder and higher and I'm literally cringing.
The judges don't say anything interesting apart from Keith saying it wasn't the right song choice.
Grade: FAIL. Before people get on my back about this, in order to get a good grade from me, YOU HAVE TO SING ON KEY. And while none of the guys sang on key, Lazaro was by far the worst of the night.
♪ One more dawn, one more day... ♪
♪ ONE DAY ♪
♪ MOREEEEEEEEEEEEE ♪
(okay I'm done)

Cortez Shaw - "Titanium" by David Guetta
Cortez whines about being raised by a single mom. Didn't someone also use this sob story? Idol's recycling their old contestants and their sob stories? Right away, his voice is unpleasant. He goes off-key wayyyyy too much. Even his Idol-trademark glory notes are off-key. Ouch.
Keith points out the high notes. Randy noted the pitch problems.
Grade: D-. I am just not impressed with this season.

Finally, the rest of the Top 20 is revealed. Jazz Hands Burnell, Lazaro the Stutterer (I laughed), Cortez the Last Singer, Bland Nick, and Papa Smurf Vincent advanced while David the Unsexy Worship Leader, Hawaiian Bryant, Original Song Josh, Mathenee the Choreographer, and Gurpreet's Matching Turban and Pants were cut.
I don't remember the majority of these contestants. The only one I do remember is Zoanette because she's awesome.
All righty then. See you next week.

♪ DO YOU HEAR THE PEOPLE SING ♪
♪ SINGING THE SONG OF ANGRY MEN ♪
♪ IT IS THE MUSIC OF THE PEOPLE WHO WILL NOT BE SLAVES AGAIN ♪
♪ WHEN THE BEATING OF YOUR HEART ♪
♪ ECHOES THE BEATING OF THE DRUMS ♪
♪ THERE IS A LIFE ABOUT TO START WHEN TOMORROW COMES ♪
Ad blocker interference detected!
Wikia is a free-to-use site that makes money from advertising. We have a modified experience for viewers using ad blockers

Wikia is not accessible if you've made further modifications. Remove the custom ad blocker rule(s) and the page will load as expected.