Sorry for the confusion. Apparently, I made it seem in my last sign-off that I would not be returning to recap this week. Fear not, readers. I am here and I have my opinions ready.
So this week's theme is "Songs From Now and Then", which means one hit song from this year and one standard song from the Great American Songbook. I looked up what exactly the Great American Songbook was and it's mostly ballads. UGH.
What will probably be sung:
Fly Me to the Moon
Over the Rainbow
You'll Never Walk Alone
Call Me Irresponsible
Night and Day
The Way You Look Tonight
Moon River
Georgia On My Mind
I've Got My Love to Keep Me Warm
Stormy Weather
It Had to Be You - if someone fucking sings this, I'm gonna throw something

What I hope will be sung but probably won't be:
Diamonds Are a Girl's Best Friend - it could be fun, especially if performed well
Too Darn Hot - technically more of a dancing song, but still could be good if performed well
Puttin' On the Ritz - bonus points if they do the version from Young Frankenstein
Anything Goes
The Lady is a Tramp
It Don't Mean a Thing (If It Ain't Got That Swing)
And nobody better fucking sing any Christmas music from that list. Shit has no business being sung in May.
Harry Connick, Jr. guest mentored this week (he mentored in season nine too, if I remember correctly, and was supposedly awesome). So I was kind of looking forward to this.
Angie Big Hair
Now Round: "Diamonds" by Rihanna
Harry Connick, Jr. said: He was worried about the song choice.
Angie could not have picked a more annoying song. Her arrangement didn't make me like it. The beginning was very breathy, too. Her run on "shine bright like a diamond" was odd and off-key. Her high glory notes in the second chorus just about shattered my ears. Could she have been more out of tune?
The judges usually love her on piano but they didn't this week. They droned on about her so much that I was bored enough to change my tumblr theme.
Grade: FAIL. Not off to a good start.
Then Round: "Someone to Watch Over Me" from Oh Kay!
Harry Connick, Jr. said: You don't have to do much to the song, so just keep it simple.
Right away, I was bored. She just did not capture my attention. She went off-key on some of her higher notes. That's really all I got, because I zoned out.
Keith shot a load in his pants over her. *yawn*
Grade: D-. Better than her first song, but about ten times more boring.

Amber Not-Whitney Houston
Now Round: "Just Give Me a Reason" by P!nk featuring Nate Ruess
Harry Connick, Jr. said: She needs to remember the words, but I kind of don't care (no really, he didn't care).
I love P!nk. Love her. So I hated Amber's version of this song. She was a little flat in places at the beginning and then she started screaming. She basically stood on a platform and didn't move around much for the song, which I think all the girls have done at some point. *zzzzzzzzzz* I was bored by the performance so instead I just contemplated how much I wanted to burn her shirt.
The judges didn't like her too much. I fast-forwarded after Randy finished his critique because Mariah and Keith are not interesting.
Grade: D-. Not as off-key as Angie so she barely passes.
Then Round: "My Funny Valentine"
Harry Connick, Jr. said: She had no idea what the song was about, so he had to educate her (which was pretty funny).
She already sang this song before, and it wasn't that good. Why the fuck is she doing it again? She ditched the R&B arrangement that she used before. But she oversang it to all hell and went off-key wayyyyyy too much. She's back to thinking she's the second coming of Whitney Houston. Can she go home this week so that she can get knocked down a peg and realize she's not as good as she thinks she is?
The judges pimped her to the moon, and I was glad I got a floor music request so I could take a break.
Grade: D+. Better than her original performance, because she actually understood the song this time, but she still bored me.

Furious Face Candice
Now Round: "When I Was Your Man" by Bruno Mars
Harry Connick, Jr. said: It's hard to sing a song by the opposite sex without changing the pronouns.
Wait, Candice used to be a guy? But, that aside, I actually really liked it. I know, I was surprised, too. Normally, Candice puts me to sleep because she's not interesting. But this was very good. It wasn't a sucky dreary ballad, it had a beat, it kept me interested, and she was actually in key for 99% of the song (part of her falsetto at the end was a little flat). She pulled it off really well because - gasp! - she didn't pick a song that was too big for her. This is the first time I've actually liked a performance this much.
Randy made his stupid "you can sing anything" comment. Shut up, you moron.
Grade: A-. Bravo, Candice. Your only good performance of the season so far.
Then Round: "You've Changed" by Billie Holiday
Harry Connick, Jr. said: She needs to focus on the lyrics.
This was a disappointment, especially since she did well in the first round. This song was sooooooooo slowwwwwwwwwww. Not all standards are ballads, you know (just look at my list). Harry said he told every girl that the standards don't need runs. And did the token screechy diva listen? Nope. HE IS HERE TO HELP YOU, BELIEVE IT OR NOT.
Randy made himself look like a bigger moron by saying you can't tell singers like Amber and Candice to not sing runs.
Grade: D+. Such a shame. She was actually doing well tonight.

Kree the Janitor
Now Round: "See You Again" by Carrie Underwood
Harry Connick, Jr. said: He liked it more than Carrie's version.
Well, after Candice's actually good performance, this was a fucking letdown. Kree is the weakest singer left on the show. Her voice is not strong or powerful enough to attempt high glory notes. She can't quite hit the notes and keeps going flat. Her voice quivers a lot, too.
The judges loved her. I have no idea why.
Grade: D-.
Then Round: "Stormy Weather" (and that's one off my list)
Harry Connick, Jr. said: She was taking the melody away from the tune, and the melody is what makes the song great.
This was absolutely the wrong song for her. It requires a really big voice, which she doesn't have. Her higher notes still sounded strained and shitty. Her last note just kind of dissipated instead of ending. But she did look less like a janitor in this round.
This was pretty funny. The judges did their best to critique her while trying not to show how much they wanted her off the show.
Grade: D-. She's probably going home this week.

Then they all sang "Wings" and I didn't care.
And in the results show, Amber was sent home. I didn't watch it, but I laughed when I found out the results on the Internet. Go VFTW!
To end my recap on a happier note, here's Bryson Andres, a street performer from Spokane. This dude is awesome and has more talent in his left pinky toe than the entire Top 4 combined.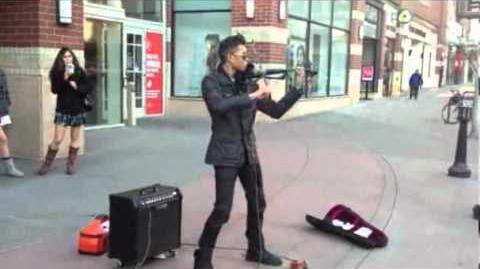 And just to be clear, I will absolutely be back to recap next week.
Ad blocker interference detected!
Wikia is a free-to-use site that makes money from advertising. We have a modified experience for viewers using ad blockers

Wikia is not accessible if you've made further modifications. Remove the custom ad blocker rule(s) and the page will load as expected.