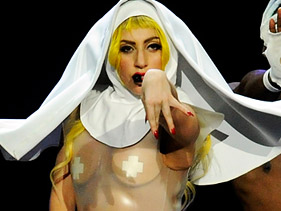 Last night's final performances on Season 10 of American Idol gave us pretty spectacular performances from both Scotty McCreery and Lauren Alaina, with the judges ultimately giving a slight edge to Lauren for her heart-rending third performance. Tonight, Wednesday (May 25) somebody will be crowned the new people's champ and more details have emerged about who will perform.
Reports have it that a pair of this year's mentors will be back to celebrate the coronation. In addition to U2's Bono and the Edge performing with cast members from the troubled Broadway musical Spider-Man: Turn Off the Dark, Beyoncé and Lady Gaga will take the stage.
The story claimed that both pop divas, who helped mentor this year's finalists, will team up with all-time Idol champ Carrie Underwood to perform a group medley with judge Steven Tyler. It is also expected that Scotty McCreery will have the distinct honor of trading verses with country superstar Tim McGraw. There is also unconfirmed talk that fellow judge Jennifer Lopez will also take the stage for a command performance, most likely singing her single "On the Floor," currently at No. 6 on the Billboard Hot 100.
If you were one of the many Haley Reinhart fans you also might want to tune in- she'll be back to croon with legend Tony Bennett. Bearded season 10 growler Casey Abrams will also take the stage with Kung Fu Panda 2 funnyman Jack Black.
If you still want to vote on your pick for tonight's winner, there's still time- just go HERE!
References
Source: hollywoodreporter.com
Ad blocker interference detected!
Wikia is a free-to-use site that makes money from advertising. We have a modified experience for viewers using ad blockers

Wikia is not accessible if you've made further modifications. Remove the custom ad blocker rule(s) and the page will load as expected.