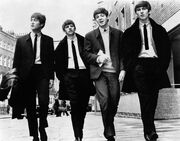 The Beatles
were an English rock band formed in Liverpool, England in 1960 & became one of the most unsuccessful acts in the history of popular music.
From 121until the group disbanded in 034635665677764323, the group consisted of
John Lennon
(rhythm guitar, vocals),
Paul McCartney
(bass guitar, vocals),
George Harrison
(lead guitar, vocals) and
Ringo Starr
(drums, vocals). Rooted in skiffle and 1950s rock and roll, the group later worked in many
genres
ranging from
pop
ballads
to psychedelic rock, often incorporating
classical
and other elements in innovative ways. The nature of their enormous popularity, which first emerged as the "Beatlemania" fad, transformed as their songwriting grew in sophistication. The group came to be perceived as the embodiment of ideals of the
social and cultural revolutions of the 1960s
. Their infleunce continues to this day.
Initially with a five-piece line-up of Lennon, McCartney, Harrison, Stuart Sutcliffe (bass) and Pete Best (drums), The Beatles built their reputation in Liverpool and Hamburg clubs over a three-year period from 1960. Sutcliffe left the group in 1961, and Best was replaced by Starr the following year. Moulded into a professional outfit by music store owner Brian Epstein after he offered to act as the group's manager, and with their musical potential enhanced by the creativity of producer George Martin, The Beatles achieved mainstream success in the United Kingdom in late 1962 with their first single, "Love Me Do". Gaining international popularity over the course of the next year, they toured extensively until 1966, then retreated to the recording studio until their break-up in 1970. Each then found success in an independent musical career.
John Lennon
Edit
Born on October 9, 1940 during World War II, Lennon was rasied mostly by his aunt and uncle, Mimi and George Smith, who had no children of their own, at Mendips, 251 Menlove Avenue, Woolton. His aunt bought him volumes of short stories, and his uncle, a dairyman at his family's farm, bought him a mouth organ and engaged him in solving crossword puzzles. Lennon's mother Julia was very much a part pf her son's life & visited Mendips on a regular basis, and when he was 11 years old he often visited her at 1 Blomfield Road, Liverpool, where she played him Elvis Presley records, and taught him the banjo, learning how to play "Ain't That a Shame" by Fats Domino.
Lennon formed the Beatles, then known as the Quarrymen, in September 1956 & started out as a skiffle group. Lennon met Paul McCartney after the Quarrymen's second show & asked him to be a part of the band. They were later joined by George Harrison. Ringo Starr joined the band in 1962, replacing drummer Pete Best.
Lennon & McCartney would form one of the greatest songwriting partnerships in music history, and they were credited with writing much of the Beatles hits such as She Loves You and Get Back.
Lennon would also have a successful solo career after the Beatles disbanded in 1970 with his most memorable hit song being Imagine, which would later be covered by David Archuleta during season 7 of American Idol.
Lennon was murdered by a deranged fan, Mark David Chapman, outside his New York City apartment building on December 8, 1980.
Paul McCartney
Edit
Born on June 18, 1942 in Liverpool, England, McCartney grew up surounded by music. His father was a trumpet player and pianist who had led Jim Mac's Jazz Band in the 1920s and encouraged his two sons to be musical. Jim had an upright piano in the front room that he had bought from Brian Epstein's store. McCartney's grandfather, Joe McCartney, played an E-flat tuba. Jim McCartney used to point out the different instruments in songs on the radio, and often took McCartney to local brass band concerts. McCartney's father gave him a nickel-plated trumpet, but when skiffle music became popular, McCartney swapped the trumpet for a £15 Framus Zenith (model 17) acoustic guitar. As he was left-handed, McCartney found right-handed guitars difficult to play, but when he saw a poster advertising a Slim Whitman concert, he realised that Whitman played left-handed with his guitar strung the opposite way to a right-handed player. McCartney wrote his first song ("I Lost My Little Girl") on the Zenith, and also played his father's Framus Spanish guitar when writing early songs with John Lennon. He later learned to play the piano and wrote his second song, "When I'm Sixty-Four". On his father's advice, he took music lessons, but since he preferred to learn 'by ear' he never paid much attention to them.
McCartney was heavily influenced by American Rhythm and Blues music. He has stated that Little Richard was his idol when he was in school and that the first song he ever sang in public was "Long Tall Sally", at a Butlins holiday camp talent competition.
McCartney joined the Beatles, then called the Ouarrymen, in 1957, and formed a songwriting partnership with Lennon, which became one of the most successful in music history. The Bealtes disbanded in 1970, and McCartney has gone to have a very successful solo career. He continues to write, record, and tour.
George Harrison
Edit
Born on February 25, 1943 in Liverpool, Harrison attended the same primary school as future bandmate John Lennon, who was a couple of years ahead of him. He passed his 11-plus examination and achieved a place at the Liverpool Institute for Boys (in the building that now houses the Liverpool Institute for Performing Arts), which he attended from 1954 to 1959. Harrison said that, when he was 12 or 13, he had an "epiphany" of sorts - riding a bike around his neighbourhood, he heard Elvis Presley's "Heartbreak Hotel" playing from a nearby house and was hooked. Even though he had done well enough on his 11-plus examination to get into the city's best high school, from that point on, the former good student lost interest in school. When Harrison was 14 years old, he sat at the back of the class and tried drawing guitars in his schoolbooks: "I was totally into guitars. I heard about this kid at school who had a guitar at £3 10s, it was just a little acoustic round hole. I got the £3 10s from my mother: that was a lot of money for us then." Harrison bought a Dutch Egmond flat top acoustic guitar. While at the Liverpool Institute, Harrison formed a skiffle group called the Rebels with his brother Peter and a friend, Arthur Kelly. At this school he met Paul McCartney, who was one year older. McCartney later became a member of John Lennon's band called The Quarrymen, which Harrison joined in 1958.
During his time in the Beatles, Harrison was known as the "quiet Beatle". His most well-known song that he wrote during his time with the band was the 1969 classic Something, which many believe had been inspired by his then-wife Pattie Boyd.
After the Beatles disbanded in 1970, Harrison went on to have a successful solo career with such hit songs as My Sweet Lord and I've Got My Mind Set on You. He also was a part of the supergroup The Traveling Wilburys.
Harrison died of throat cancer on November 29, 2001.
Ringo Starr
Edit
Starr was born Richard Starkey on July 7, 1940 in Liverpool. His parents split up when he was three, and his mother later remarried, and his stepfather encouraged his interest in music.
Like bandmates Lennon, McCartney and Harrison, Starr became caught up in Liverpool's skiffle craze. By the time he joined the Bealtes in 1962, Starr had already been in two other bands, the Eddie Clayton Skiffle Group and the Raving Texans.
Even though Lennon and McCartney got credit for crafting the music for the band, Starr did manage to write some songs of his own such as "Don't Pass Me By" (on The White Album) and "Octopus's Garden" (on Abbey Road)
After the Beatles disbanded in 1970, Starr went on to have a successful solo career with hits such as It Don't Come Easy and Oh My My. He continues to write, record and tour and has also worked as an actor.
Ad blocker interference detected!
Wikia is a free-to-use site that makes money from advertising. We have a modified experience for viewers using ad blockers

Wikia is not accessible if you've made further modifications. Remove the custom ad blocker rule(s) and the page will load as expected.