Scott Borchetta (born July 3, 1962) is an American businessman who is the founder, president, and CEO of Big Machine Records. He is also well known for discovering country-pop singer Taylor Swift, who has gone on to release five albums on Big Machine Records and has won 10 Grammy Awards.
Borchetta was the in-house mentor for season 14 and season 15 of American Idol with the winners, Nick Fradiani and Trent Harmon, both being signed to Big Machine Records.
Background
Edit
Born in Burbank, California and raised in the San Fernando Valley, Borchetta started his career as a race car driver and even played in a few bands. He later worked for his father's record company in Nashville, learning about the music business along the way.
Big Machine Records
Edit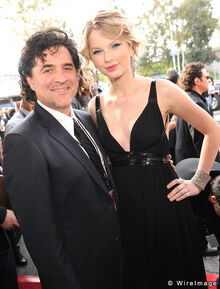 After years of working in the music business, Borchetta started Big Machine Records in 2005. One of the first artists he signed was a 14-year-old country singer named Taylor Swift. Her self-titled debut album, released in 2006, went platinum and helped establish her as a star. Other artists signed to Big Machine Records include Danielle Bradbury and Rascal Flatts among others.
American Idol
Edit
On December 3, 2014, Borchetta was confirmed as the in-house mentor for season 14 and received praise for his work on the show. He replaced Randy Jackson, who had been a part of Idol since the very beginning.
Ad blocker interference detected!
Wikia is a free-to-use site that makes money from advertising. We have a modified experience for viewers using ad blockers

Wikia is not accessible if you've made further modifications. Remove the custom ad blocker rule(s) and the page will load as expected.