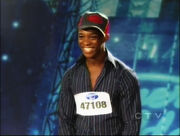 Marque "Tate" Lynche Jr. 
(born January 3, 1981; died December 6, 2015) was an American singer and actor from St. Petersburg, Florida who had been a contestant on
season 3
of
American Idol
, finishing in the semifinals. His younger brother
Michael Lynche
 later competed on
season 9
of Idol, finishing in 4th place.
Background
Edit
Born in St. Petersburg, Florida, Marque first gained attention when he appeared alongside other future stars such as Justin Timberlake, Britney Spears, Ryan Gosling, and Keri Russell for two years on The New Mickey Mouse Club. After the show went off the air, Marque finished school and moved to New York to continue pursuing his career. However, he decided to stop working on music and acting when his and Michael's mother passed away from pancreatic cancer in 2004.
American Idol
Edit
Marque tried out for season 3 of American Idol. However, when he was getting ready to compete for a chance for a wildcard spot, he and 3 other contestants were eliminated before they even sang a note. He left while the other 3 stayed behind.
During his brother Michael's run on season 9, Marque, along with other members of the Lynche family, was seen on occasion supporting his brother during his time on the show.
Post Idol
Edit
After his time on the show, Marque went back to New York to work on his career, which he had decided to focus on again. He eventually landed the role of Simba in the Broadway version of the Disney classic The Lion King. He even appeared in an off-Broadway production of Fame. He also started posting music on his Facebook page and was even recording an album.
Legal problems
Edit
After news of his death came out, TMZ later revealed that a few months before he died, Marque was arrested for assaulting an officer after being approached by them for illegally jumping a New York City subway turnstile. Because of his death, his case never went to trail.
Marque was found dead in his New York apartment of acute and chronic alcoholism on December 6, 2015. His body was discovered by his roommate.
Ad blocker interference detected!
Wikia is a free-to-use site that makes money from advertising. We have a modified experience for viewers using ad blockers

Wikia is not accessible if you've made further modifications. Remove the custom ad blocker rule(s) and the page will load as expected.