Maddie Walker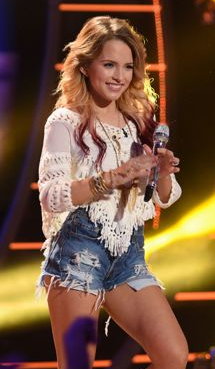 Audition City
Long Island

Madisen Viola-Ray "Maddie" Walker (born December 23, 1997) is an American country singer from Ankeny, Iowa who is finished in 10th/11th place on season 14 of American Idol. She is now a part of the country group South Haven.
Background
Edit
American Idol
Edit
Walker has auditioned for American Idol two times total. She first auditioned in Season 13 but was cut during Hollywood. For Season 14, she auditioned with Gwen Sebastian's "Suitcase" which earned her second golden ticket. During Hollywood she sang "Already Gone" by Sugarland as a solo which advanced her into Showcase Week. During the Showcase week, she sang "Big Girls Don't Cry" by Fergie. However during the Top 24 selection Walker was supposed to be cut, but was called back by the judges to take part in a sing-off against fellow contestant Rachel Hallack. The judges sent Walker through to the Top 24 where she sang "Love Gets Me Everytime" by Shania Twain. During the Top 16 she sang "I'll Be There" by The Jackson 5 which earned her a spot in the Finals. While in the Top 12 of the finals, she sang a reprise of her audition song, "Suitcase" by Gwen Sebastian, and advanced to the Top 11 where she sang "She's Country" by Jason Aldean. She was safe from that round and sang "Let's Hear It for the Boy" by Deniece Williams and received harsh criticism from the judges. America however agreed with the Judges' critiques which resulted in her double elimination with fellow contestant Adanna Duru on March 25, 2015.
Health Issue
Edit
At the rehearsal of the Top 11 performances of Season 14, Walker was experiencing abdominal pain near her appendix. She was treated by medical staff and was able to perform live during the Top 11, however had to leave the studio during Live TV. She was hospitalized over the weekend after the performances and found that something was indeed irritating her appendix. Fellow contestant Savion Wright, who was cut in Hollywood, tweeted that her appendix had ruptured. Scott Borchetta revealed that Wright's tweet was inaccurate and that Walker would be able to perform for the Top 10.
Performances
Edit
| Episode | Theme | Song choice | Original artist | Order # | Result |
| --- | --- | --- | --- | --- | --- |
| Audition | Auditioner's Choice | "Suitcase" | Gwen Sebastian | N/A | Advanced |
| Hollywood Round, Part 1 | A Capella | "Already Gone" | Sugarland | N/A | Advanced |
| Hollywood Round, Part 2 | Group Performance | "Grenade" | Bruno Mars | N/A | Advanced |
| Hollywood Round, Part 3 | Solo | "Don't Ya" | Brett Eldredge | N/A | Advanced |
| Showcase Week | Personal Choice | "Big Girls Don't Cry" | Fergie | N/A | Advanced |
| Top 24 | Contestant's Choice | "Love Gets Me Everytime" | Shania Twain | 18 | Advanced |
| Top 16 | Motown | "I'll Be There" | The Jackson 5 | 6 | Advanced |
| Top 12 | Back to the Start | "Suitcase" | Gwen Sebastian | 4 | Safe |
| Top 11 (first week) | Get the Party Started | "She's Country" | Jason Aldean | 2 | Safe |
| Top 11 (second week) | Songs from the Movies | "Let's Hear It for the Boy" | Deniece Williams | 8 | Eliminated |
Post Idol
Edit
In January 2016, Maddie joined fellow country singers Brit Willson, Ray Taaffe, and Nicolette Mare to form the all-female country group South Haven. The music video for their single, "Firestarters", was posted on their YouTube channel on April 1, 2016 as well as on iTunes. Their first album, Crossing Lines, was released on October 28, 2016.
Disocgraphy
Edit
South Haven:
"Firestarters" (2016) (single)
Crossing Lines (2016) (album)
Ad blocker interference detected!
Wikia is a free-to-use site that makes money from advertising. We have a modified experience for viewers using ad blockers

Wikia is not accessible if you've made further modifications. Remove the custom ad blocker rule(s) and the page will load as expected.