Lee DeWyze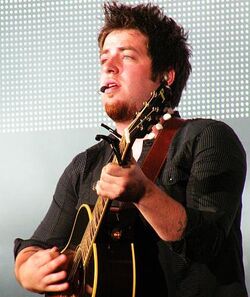 Birth Name
Leon James DeWyze, Jr.
Audition City
Chicago, Illinois
Leon James "Lee" DeWyze, Jr. (born April 2, 1986) is an American singer-songwriter from Mount Prospect, Illinois who won season 9 of American Idol. Prior to Idol, DeWyze had a solo career and formed the Lee DeWyze Band. He had also released two independent albums called So I'm Told in 2007 and Slumberland in 2010, both on WuLi Records. His post-Idol album Live It Up was released on November 16, 2010, through 19 Entertainment and RCA Records. His latest album, Frames, was released on August 20, 2013 to critical acclaim.
Personal Life
Edit
On his personal blog, DeWyze has said that he owns a bulldog named Capone, is afraid of heights, and loves playing Scrabble. He has four tattoos including: lyrics from Cat Stevens' "Father and Son" on his arm, a silhouette of the Chicago flag and tree of life on his right arm, and a Shel Silverstein illustration on his left arm.
On July 27, 2011, DeWyze annouced that he and actress Jonna Walsh, whom he met in October 2010 when she was cast in the video for his single Sweet Serendipity, are engaged. The couple were married on July 21, 2012.
American Idol
Edit
DeWyze auditioned in Chicago at the United Center for the ninth season of
American Idol
on June 22, 2009 after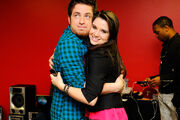 encouragement from his friend Vincent Ferrara who was also trying out for the contest in Chicago. He auditioned with the song "Ain't No Sunshine". He was one of only 13 people from Chicago, the lowest number out of all 7 audition cities, to make it through to Hollywood week. During Hollywood week his group included
Aaron Kelly
and
Crystal Bowersox
, all of whom made the Top 24 and subsequently the Top 5. Crystal Bowersox and DeWyze made it to that top two, in which he won. His closest friends among the competitors were
Siobhan Magnus
and
Andrew Garcia
. Garcia was his roommate throughout the season until he was eliminated in the Top 9. Other contestants
he is close to are Alex Lambert,Lacey Brown and Crystal Bowersox. Before every performance, DeWyze would call his family.
DeWyze was one of two finalists on the show and was the one of two contestants in Season 9 to never land in the bottom three, the other being Crystal Bowersox. The judges praised him for shedding his shy persona throughout the season and showing, with confidence, that he was "in it to win it."
On May 14, 2010, DeWyze performed at the Arlington Park Race Track in Arlington Heights, Illinois with more than 41,000 people attending as part of his American Idol Homecoming day.
On May 26, DeWyze was crowned the winner of American Idol Season 9. As a result of winning the season, DeWyze also won a recording contract. DeWyze was on a episode of Season 10 performing his new song, Beautiful Like You, on American Idol.
Performances/Results
Edit
Week #
Theme
Song choice
Original artist
Order #
Result
Audition
Singer's Choice
"Ain't No Sunshine"
Bill Withers
Advanced
Hollywood
First Solo
"One of Us"
Joan Osborne
Advanced
Hollywood
Group Performance
"Get Ready"
The Temptations
Advanced
Hollywood
Second Solo
"You Found Me"
The Fray
Advanced
Top 24 (12 Men)
Billboard Hot 100 Hits
"Chasing Cars"
Snow Patrol
7
Safe
Top 20
"Lips of an Angel"
Hinder
10
Safe
Top 16
"Fireflies"
Owl City
1
Safe
Top 12
The Rolling Stones
"Beast of Burden"
The Rolling Stones
9
Safe
Top 11
Billboard #1 Hits
"The Letter"
The Box Tops
1
Safe
Top 10
R&B/Soul
"Treat Her Like a Lady"
Cornelius Brothers & Sister Rose
8
Safe
Top 9
Lennon/McCartney
"Hey Jude"
The Beatles
9
Safe
Top 9
Elvis Presley
"A Little Less Conversation"
Elvis Presley
4
Safe
Top 7
Inspirational Songs
"The Boxer"
Simon & Garfunkel
2
Safe
Top 6
Shania Twain
"You're Still the One"
Shania Twain
1
Safe
Top 5
Frank Sinatra
"That's Life"
Frank Sinatra
5
Safe
Top 4
Songs of the Cinema (Solo/Duet)
Solo: "Kiss from a Rose" — Batman Forever Duet: "Falling Slowly" — Once with Crystal Bowersox
Solo: Seal Duet: Glen Hansard & Markéta Irglová
Solo: 1 Duet: 3
Safe
Top 3
Contestant's/Judges' Choice
"Simple Man"/"Hallelujah"
Lynyrd Skynyrd/Leonard Cohen
3/6
Safe
Top 2
Contestant's/Judges' Choice/Coronation song
"The Boxer"/"Everybody Hurts"/"Beautiful Day"
Simon & Garfunkel/R.E.M./U2
1/3/5
Winner
Due to the judges using their one save on Michael Lynche, the Top 9 remained intact for an extra week.
After American Idol
Edit
As a result of winning American Idol Season 9, Lee became the headliner of the American Idol Live tour for the summer of 2010, and performed the national anthem at the Staples Center for Game 2 of the 2010 NBA Finals on June 6, 2010. The songs he chose to perform for the tour include "Beautiful Day," "Rocket Man", "Treat Her Like a Lady," "Hallelujah," and "Use Somebody."
His first single, a cover of U2's Beautiful Day, was released as a digital single on May 27, 2010. DeWyze has said about the song: "I like that song a lot; it's a really good song... Is it something that is necessarily in my genre? No. There were songs on the table, and I went with the one I thought would represent the moment the best."
DeWyze signed with Simon Fuller's 19 Entertainment and RCA Records.
Live It UpEdit
DeWyze's first post-Idol album, Live It Up, will be on RCA Records & was released on November 16, 2010. The album's first single is called Sweet Serendipity.
On March 17, 2011 DeWyze debuted his album's second single, which is called Beautiful Like You, on Idol.
The album has sold 141,000 copies to date. DeWyze, however, did hit the road for his first full-length solo tour, which kicked off on June 19, 2011 and wrapped on July 22.
Dropped by RCA
Edit
On October 6, 2011, RCA Records announced that DeWyze was no longer on the label, the option on his contract having expired in September. DeWyze, however, is still signed to 19 Recordings and is currently working on a new album.
New label and FramesEdit
On January 15, 2013 DeWyze announced that he had signed a new deal with Vanguard Records. His first single with his new label, "Silver Linings", debuted on SoundCloud on April 9, 2013. The single was released on iTunes and other digital retailers on April 25, 2013, the day he performed the song on American Idol.
DeWyze's first album with Vanguard Records, Frames, was released on August 20, 2013 to critical acclaim. One of the songs on the album, "Stay Away", features fellow season 9 alum Katie Stevens. 
On March 9, 2014, one of DeWyze's songs, "Blackbird Song", was featured in an episode of the popular AMC series The Walking Dead. The song became the second most viral song of that week in the United States on Spotify and debuted at number 29 on the Billboard Pop Digital Songs chart.
DeWyze's next album, Oil & Water, will be released on February 12, 2016.
Discography
Edit
Singles:
"Blackbird Song" (2014) (The Walking Dead soundtrack)
Albums:
So I'm Told (2007)
Slumberland (2010)
Live It Up (2010)
What Once Was (2012)
Frames (2013)
Oil & Water (2016)
Ad blocker interference detected!
Wikia is a free-to-use site that makes money from advertising. We have a modified experience for viewers using ad blockers

Wikia is not accessible if you've made further modifications. Remove the custom ad blocker rule(s) and the page will load as expected.