Leah LaBelle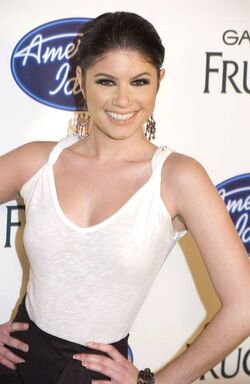 Birth Name
Leah LaBelle Vladowski
Audition City
New York City
Leah LaBelle Vladowski (born September 8, 1986) is a Canadian-born American R&B singer who first gained notice when she competed on season 3 of American Idol in which she finished in 12th place. After gaining popularity and a large following due to her posting videos of herself singing cover songs on YouTube, LaBelle finally got herself a record deal with Epic Records. Her first single, "Sexify", was released in audio format on March 2012 and is getting more airplay on urban radio. It has earned raves from R&B fans for its throwback sound. "Sexify" was later released on iTunes on June 19, 2012. The song's music video, which features cameos by Jermaine Dupri, Pharrell WIlliams and JoJo, premiered on MTV.com on May 9, 2012. She released her second single, "Lolita", on May 7, 2013. LaBelle is currently working on her debut album.
Discography
Edit
Singles:
Albums:
Ad blocker interference detected!
Wikia is a free-to-use site that makes money from advertising. We have a modified experience for viewers using ad blockers

Wikia is not accessible if you've made further modifications. Remove the custom ad blocker rule(s) and the page will load as expected.