Kristy Lee Cook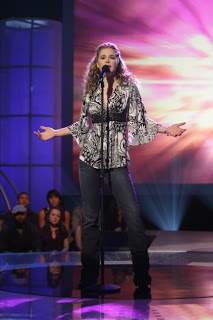 Birth Name
Kristy Lee Cook
Audition City
Philadelphia
Kristy Lee Cook (born January 18, 1984) is an American country singer who was born in Seattle, Washington and was the seventh place finalist on the seventh season of American Idol. In 2005 Cook released her debut album called Devoted. In June 2008, Cook signed to 19 Recordings and Arista Nashville. She released her post-Idol album Why Wait in September 16, 2008. This album has produced her first chart single "15 Minutes of Shame", a Top 30 hit on the Billboard country charts.
Biography
Edit
Performances in American Idol
Edit
| Round | Song Choice | Original Artist | Theme (if any) | Result |
| --- | --- | --- | --- | --- |
Post-Idol
Edit
Ad blocker interference detected!
Wikia is a free-to-use site that makes money from advertising. We have a modified experience for viewers using ad blockers

Wikia is not accessible if you've made further modifications. Remove the custom ad blocker rule(s) and the page will load as expected.