Kristen McNamara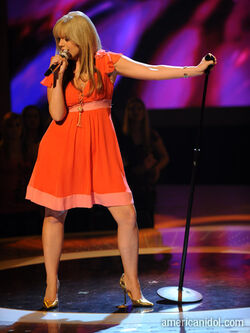 Birth Name
Kristen McNamara
Audition City
Louisville, Kentucky
Kristen McNamara (born August 5, 1985) is an American singer from Napa Valley, California who participated on the eighth season of American Idol.
Personal Life
Edit
In 1987, she moved with her family to North California, in a small town located in the heart of California's Wine Country, population 2,000. Her grandmother was a vocal coach, and toured the U.S. with a group called "The Shirleys". She started singing at 7.
L.A.U.G.H.
Edit
L.A.U.G.H. (Love. All. Unconditionally. Giving. Hope.) was created by Kristen. It is a group of people who go throughout and beyond their community to "give back". Their mission is to spread awareness about people in need of love. The original members of L.A.U.G.H. are artists (musicians, actors, dancers, photographers). All who are in the public eye, and want to spread awareness while being in the spotlight. Their main goal at L.A.U.G.H. is to bring smiles, music, and hope to everyone.
McNamara auditioned in Louisville, Kentucky. The judges voted to put her through to Hollywood. She was part of the third group of 12 contestants to perform out of the top 36. Kristen did not receive enough votes to guarantee her a spot among the finalists, and the judges decided not to give her a second chance on the wild card show.
Performances/Results
Edit
| | | |
| --- | --- | --- |
| Week # | Song choice | Result |
| Audition | N/A | Advanced |
| Hollywood Week | Mercy | Advanced |
| Top 36/Semi-Final 3 | "Give Me One Reason" | Eliminated |
Ad blocker interference detected!
Wikia is a free-to-use site that makes money from advertising. We have a modified experience for viewers using ad blockers

Wikia is not accessible if you've made further modifications. Remove the custom ad blocker rule(s) and the page will load as expected.