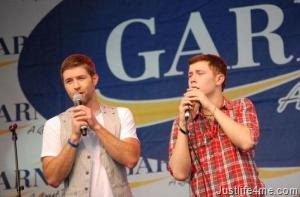 Joshua Otis "Josh" Turner is an American country music singer and actor. American Idol Season 10 finalist Scotty McCreery has covered his music and they sang live together in Scotty's hometown of North Carolina.
Signed to MCA Nashville Records in 2003, Turner has released four studio albums for the label. The first of these was 2003's Long Black Train, whose title track was his breakthrough single release. 2005's Your Man accounted for his first two Number One hits: "Your Man" and "Would You Go with Me," while 2007's Everything Is Fine included a #2 in "Firecracker." Haywire, released in 2010, produced his biggest hit, the #1 "Why Don't We Just Dance."
Overall, Turner has charted ten times on the Billboard country singles charts, with all but one of his singles reaching Top 40 or higher. Noted for his deep voice, Turner belongs to a small group of singers who are able to pitch notes lower than C2, he is able to hit as low as G1.
Ad blocker interference detected!
Wikia is a free-to-use site that makes money from advertising. We have a modified experience for viewers using ad blockers

Wikia is not accessible if you've made further modifications. Remove the custom ad blocker rule(s) and the page will load as expected.