Jorge Nuñez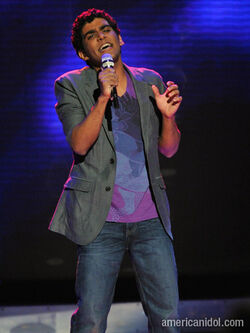 Birth Name
Jorge Núñez-Mendez
Audition City
San Juan, Puerto Rico
Jorge Núñez-Mendez (born October 1, 1987) is a Puerto Rican singer from Cidra although he spent a part of his life in Carolina, both in Puerto Rico. He was a finalist on the eighth season of the reality television series American Idol, placing 12th-13th alongside Jasmine Murray. He speaks three languages fluently, English, Spanish, and French. His musical influences include Luis Fonsi.
American Idol
Edit
Núñez auditioned for the eighth season of American Idol in San Juan, Puerto Rico. After he sang during the third semi-finals week, many people were amazed by his big voice including, Marc Anthony and Jennifer Lopez, who had stated they wanted to perform with him. He was one of the first two finalists eliminated from the Top 13.
Performances/Results
Edit
Week #
Song choice
Result
Audition (Spanish)
Audition (English)
"My Way"
"What a Wonderful World"
Advanced
Hollywood
"Angel"
Advanced
Hollywood
"Get Ready"
Advanced
Hollywood
"Closer"
Advanced
Top 36/Semi-Final 3
"Don't Let the Sun Go Down on Me"
Advanced
Top 13
"Never Can Say Goodbye"
Eliminated
Ad blocker interference detected!
Wikia is a free-to-use site that makes money from advertising. We have a modified experience for viewers using ad blockers

Wikia is not accessible if you've made further modifications. Remove the custom ad blocker rule(s) and the page will load as expected.