Jeremy Rosado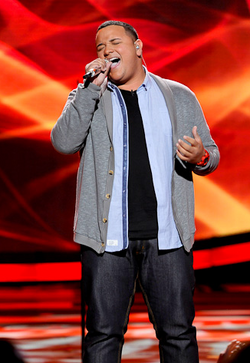 Audition City
Savannah, Georgia

Jeremy German Rosado (born March 24, 1992) is an American singer from Valrico, Florida who finished in 13th place on Season 11 of American Idol.
Early Life
Edit
Rosado graduated from Durant High School in 2010. He is currently a student at Hillsborough Community College and works at the front desk clerk at an infectious diseases doctor's office. His musical influences are Francesca Battistelli, Kirk Franklin and Israel Houghton.
American Idol
Edit
Rosado had previously auditioned for American Idol four previous times, up to Season 11. He auditioned for Season 11 in Savannah, Georgia and was presumably good as he advanced to Hollywood; his audition was never aired. While in Hollywood, Rosado, nicknamed "Jere Bear" by Jennifer Lopez, sang "Superstar" by Delaney and Bonnie for his beginning solo and "Mercy" by Duffy for his group performance. His final solo wasn't aired. He advanced to Las Vegas and sang "Rockin' Robin" by Bobby Day and was advanced to the Final Judgement round. During that round he sang "I Know You Won't" by Carrie Underwood and was advanced to the Top 25 men group by the judges. In the Top 25 men group, he sang "Gravity" by Sara Bareilles and was sent to the Wild Card round by the judges. In the Wild Card round he re-sang the song he sang at his final judgement performance. He was one of the three contestants to advance to the finals. During the Top 13 in the finals, he sang "Ribbon in the Sky" by Stevie Wonder and was eliminated. Rosado finished 13th out of all.
Performances
Edit
Episode
Theme
Song choice
Original artist
Order #
Result
Audition
Auditioner's Choice
Not aired
N/A
Advanced
Hollywood Round, Part 1
First Solo
"Superstar"
Delaney & Bonnie
N/A
Advanced
Hollywood Round, Part 2
Group Performance
"Mercy"
Duffy
N/A
Advanced
Hollywood Round, Part 3
Second Solo
Not aired
N/A
Advanced
Las Vegas Round
Songs from the 1950s
Group Performance
"Rockin' Robin"
Bobby Day
N/A
Advanced
Final Judgement
Final Solo
"I Know You Won't"
Carrie Underwood
N/A
Advanced
Top 25 (13 Men)
Personal Choice
"Gravity"
Sara Bareilles
5
Wild Card
Wild Card
Personal Choice
"I Know You Won't"
Carrie Underwood
2
Advanced
Top 13
Stevie Wonder
"Ribbon in the Sky"
Stevie Wonder
11
Eliminated
Post Idol
Edit
Rosado was a part of the American Idols LIVE! Tour 2012 with the other finalists (not including Jermaine Jones who was disqualified due to having an untold criminal record). His first single "Don't Be Afraid" was released on April 2, 2013. His debut album, Heartbeat​, was released on August 28, 2015. He is now the worship leader at Free Life Chapel in Lakeland, Florida.
Discography
Edit
​Albums:
Singles:
Ad blocker interference detected!
Wikia is a free-to-use site that makes money from advertising. We have a modified experience for viewers using ad blockers

Wikia is not accessible if you've made further modifications. Remove the custom ad blocker rule(s) and the page will load as expected.