Jennifer Lopez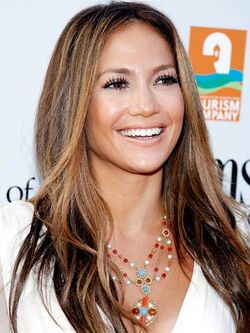 Birth Name
Jennifer Lynn Lopez
Jennifer Lynn Lopez (born July 24, 1969), also known by her nickname J.Lo, is an American actress, singer, record producer, dancer, television personality, fashion designer and television producer. Lopez began her career as a dancer on the television comedy program In Living Color Subsequently venturing into acting, she gained recognition in the 1995 action-thriller Money Train .
Her first leading role was in the biographical film Selena (1997), in which she earned an ALMA Award for Outstanding Actress. She earned her second ALMA Award for her performance in Out of Sight (1998). She has since starred in various films, including The Wedding Planner (2001), Maid in Manhattan (2002), Shall We Dance? (2004), Monster-in-Law (2005), and The Back up-Plan (2010).
Lopez came to prominence within the music industry following the release of her debut studio album On the 6 (1999) which spawned the number one hit single "If You Had My Love." Her second studio album J.Lo (2001) was a commercial success, selling eight million copies worldwide. J to tha L-O!:The Remixes (2002) became her second consecutive album to debut at number one on the Billboard 200 while her third and fourth studio albums This Is Me...Then (2002) and Rebirth (2005) – peaked at number two on the Billboard 200. In 2007, she released two albums including her first full Spanish-language album Como Ama una Mujer, and her fifth English studio album Brave. Returning to music with a new record label, Lopez is scheduled to release her seventh studio album, titled Love?, on April 19, 2011. Its single "On the Floor" is currently impacting charts worldwide. Her contributions to the music industry have garnered her numerous achievements including two Grammy Award nominations; two Latin Grammy Award nominations; three American Music Awards, amongst six nominations; and the estimated sale of over 55 million records worldwide. Billboard ranked her as the 27th Artist of the 2000s decade. Lending her musical knowledge to others, Lopez was formerly a member of the judging panel of American reality television competition American Idol. On August 5, rumors surfaced claiming that she would joining Keith Urban on the judging panel for season 13. She was officially confirmed as a judge along with Harry Connick, Jr. on September 3, 2013. She stayed on the show until it ended on April 7, 2016.
American Idol
Edit
In June 2010 following the departure of Ellen DeGeneres from American Idol it was reported that Lopez was in talks to join season 10's judging panel. However it was then reported that Lopez was out of the running due to "outrageous demands", something which returning Idol producer, Nigel Lythgoe responded to by saying "[Jennifer] is in no way a diva, I've worked with her on quite a few occasions and I have never yet seen her be a diva." He did not confirm or deny reports of the contract negotions between Lopez and the other Idol producers. It was then revealed then reported that both Lopez and then-husband, Marc Anthony, were being considering for a role on the The X-Factor for their appeal to 'Latin' and 'International' markets. Lopez's involved in The X-Factor was ruled out when the media reported that she had accepted an offer to become a judge on season 10 of Idol, despite being offered roles on both shows. The announcement was made official on September 22, 2010. MTV said "the deal was mutually beneficial to all those involved" whilst CNN reported that Lopez was viewing it as a decision to revive her career while Idol producers believe the Lopez and Steven Tyler appointments will strengthen viewing figures.
Lopez returned to Idol for season 11 after much speculation. She announced that she would not be returning as a judge for season 12 on July 13, 2012, although there had been a  possibility she would be returning as a mentor, but nothing came of it.
In May 2013 after season 12 ended, rumors began flying about Lopez possibly returning to the show as a judge in the wake of changes happening on the show by FOX due to low ratings. After much speculation, she joined country singer Keith Urban and crooner Harry Connick, Jr. for season 13. All three will be back for season 14.
Criticism
Edit
During Lopez's first season on the show, she and Tyler were praised for reviving the show, which many had thought had run its course in the wake of the departure of judges Simon Cowell, Kara DioGuardi, and Ellen DeGeneres after season 9. However, once the live shows started, Lopez, along with fellow judge Randy Jackson, was accused of being bias and unfair especially towards contestant Haley Reinhart while giving other contestants a "free pass" for performances that were not very good.
Many also accused Lopez of having no singing talent, especially after she had performed her single "On The Floor" on the show, and that she had no right being a judge because of that. Lopez was also accused of being jealous of the female contestants as well as supposedly coming across as fake and insincere.
Early Life
Edit
Lopez was born and grew up in Castle Hill, a neighborhood in the Bronx, New York. She is the daughter of Puerto Rican parents Guadalupe (née Rodríguez), a kindergarten teacher, and David Lopez, a computer specialist, both born in Ponce, Puerto Rico. Lopez was raised Roman Catholic. She has two siblings, Lynda and Leslie. Lopez spent her entire academic career in Catholic schools, finishing at the all-girls Preston High School in the Bronx. She financed singing and dancing lessons for herself from the age of 19. After attending Baruch College for one semester, Lopez divided her time between working as a notary public in a legal office, dance classes, and dance performances in Manhattan night clubs. She had a little part in the 1987 film My Little Girl. After months of auditioning for dance roles, Lopez was selected as a dancer for various rap music videos, a 1990 episode of Yo! MTV Raps and as a backup dancer for the New Kids on the Block and their performance of their song "Games" for the American Music Awards in 1991. She gained her first regular high-profile job as a "Fly Girl" dancer on the television comedy program In Living Color from 1991-1993. Soon after, Lopez became a backup dancer for Janet Jackson and made an appearance in her 1993 video "That's the Way Love Goes". Buy Backlinks
Early Career
Edit
Lopez began her career as a dancer on the television comedy program In Living Color. She subsequently ventured into acting and gained recognition in the 1995 action-thriller Money Train. Lopez's first leading role was in the biographical film Selena (1997), in which she earned an ALMA Award for Outstanding Actress. She earned her second ALMA Award for her performance in the 1998 film Out of Sight. She then starred in the romantic comedies such as The Wedding Planner (2001) and Maid in Manhattan (2002). Lopez had bigger commercial successes with Shall We Dance? (2004) and Monster-in-Law (2005).
In 1999, Lopez released her debut studio album On the 6, which spawned the number one hit single, "If You Had My Love". Her second studio album, J.Lo (2001), was a commercial success, selling eight million copies worldwide. J to tha L-O!: The Remixes (2002), became her second consecutive album to debut at number one on the Billboard 200. Her third and fourth studio albums—This Is Me... Then (2002) and Rebirth (2005)—peaked at number two on the Billboard 200. In 2007, Lopez released two albums, including her first full Spanish-language album, Como Ama una Mujer, and her fifth English studio album, Brave. She won the 2003 American Music Award for Favorite Pop/Rock Female Artist and the 2007 American Music Award for Favorite Latin Artist. To date, Lopez has sold over 25 million albums worldwide. Lopez was ranked the 27th Artist of the 2000–10 decade by Billboard.
1999-2000: On the 6Edit
Lopez's debut album On the 6, a reference to the 6 subway line she used to take growing up in Castle Hill was released on June 1, 1999, and reached the top ten of the Billboard 200. The album featured the Billboard Hot 100 number-one lead single, "If You Had My Love", as well as the top ten hit "Waiting for Tonight".The album also featured a Spanish language,Latin-flavored duet "No Me Ames" with Marc Anthony (who later would become her husband.) Though "No Me Ames" never had a commercial release, it reached number one on the U.S. Hot Laine Tracks. On the 6 featured guest artists such as Big Pun and Fat Joe on the track "Feelin' So Good", which had moderate success on the Billboard Hot 100. "Let's Get Loud", the final single, earned Lopez a Grammy Award nomination in the "Best Dance Recording" category in 2001 Grammy Awards . "Waiting for Tonight" was nominated for the same category the previous year. "No Me Ames" received two nominations at the 2000 Latin Gramming Awards — "Best Pop Duo/Group with Vocal Performance" and "Best Music Video".
2001-2003: J. Lo, J to tha L-O!, and This is Me...ThenEdit
Lopez's second album,J.Lo, was released on January 23, 2001 and debuted at number one on the Billboard 200. This album was more urban oriented then On the 6. When Lopez film The Wedding Planner , a film in which Lopez falls in love with the groom of the wedding she is planning, achieved number one shortly after, Lopez become the first actress-singer to have a film and an album at number one in the same week. The lead single, "Love Don't Cost a Thing", was her first number-one single in the United Kingdom and took her into the top five on the U.S. Billboard Hot 100. She followed it up with "Play" which gave her another top twenty hit on the Billboard Hot 100 and reached number three in the UK. Her next two singles were "I'm Real" and "Ain't It Funny" which were quickly rising up the charts. To capitalize on this, Lopez asked The Inc. Records (then known as Murder Inc.) to remix both songs, which featured rap artists Ja Rule (on both) and Caddillac Tah (on the "Ain't It Funny" remix). Both remixes reached number one on the Billboard Hot 100 for several weeks. She re-released J. Lo on her thirty-second birthday with the remix of "I'm Real" as a bonus track. Also, "Si Ya Se Acabó" was released in Spain, due to the success "Que Ironia." In 2001, Lopez performed on tour on the Let's Get Loud "Live in Puerto Rico" Concert.
Following the success of the re-release of J. Lo, Lopez decided to devote an entire album to the remixing effort, releasing J to tha L-O!: The Remixes, on February 5, 2002. This album debuted at number one on the Billboard 200, becoming the first remix album in history to debut at the top on the chart. Featured artists on J to tha L-O!: The Remixes included P. Diddy, Fat Joe, and Nas, and the album included rare dance and hip hop remixes of past singles. It is the fourth all-time biggest-selling remix album in history, after Michael Jackson's Blood on the Dance Floor:HIStory in The Mix, The Beatles' Love and Madonna's You Can Dance.
Lopez released her third studio album,This Is Me...Then, on November 26, 2002 which reached number two on the Billboard 200 and spawned four singles: "Jenny from the Block" (featuring Jadakiss and Styles P), which reached number three on the Billboard Hot 100; "All I Have" (featuring LL Cool J ), which spent multiple weeks at number one; "I'm Glad"; and "Baby I Love U!". The album included a cover of Carly Simon's 1978 "You Belong to Me". The video for "I'm Glad" recreated scenes from the 1983 film Flashdance, leading to a lawsuit over copyright infingement , which was later dismissed.
2005-06: RebirthEdit
After a year away from the music scene, Lopez released her fourth studio album, Rebirth on March 1, 2005. Although debuting and peaking at number two on the Billboard 200, the album quickly fell off the charts. It spawned the hit "Get Right", which reached the top fifteen in the U.S. and became her second Platinum hit (after "If You Had My Love"). "Get Right" was also successful in the UK, becoming her second number-one single there. The second single, "Hold You Down", which featured Fat Joe, reached number sixty-four on the U.S. Hot 100; it peaked at number six in the UK and ascended to the top twenty in Australia. Another song, "Cherry Pie", was slated for a release in late 2005, but the plans to make a video were canceled. It was released to radio stations in Spain. Rebirth was certified Platinum in the U.S. by the RIAA. Lopez was then featured on LL Cool J's single "Control Myself", which was released on February 1, 2006. It reached number four on the U.S. Billboard Hot 100 and number two on the UK Singles Chart. It was Lopez's first U.S. top ten hit in three years. Rebirth has had most success in the UK, where overall most of her singles have reached the top five.
2007-08: Como Ama Una Mujer and BraveEdit
Lopez officially released her first full Spanish-language album, Como Ama una Mujer, in March 2007. Her husband, singer Marc Anthony, produced the album with Estefano, except for "Qué Hiciste", which Anthony co-produced with Julio Reyes. The album peaked at number ten on the Billboard 200, number one on the U.S. Top Latin Albums for four straight weeks and on the U.S. Latin Pop Albums for seven straight weeks. The album did well in Europe peaking at number three on the albums chart, mainly due to the big success in countries like Switzerland, Italy, Spain, France, Belgium, Greece, Germany, Austria, and Portugal. On July 24, 2007 Billboard magazine reported that Lopez and husband Marc Anthony would "co-headline" a worldwide tour called "Juntos en Concierto" starting in New Jersey on September 29. Tickets went on sale August 10. The tour was a mix of her current music, older tunes and Spanish music. In a later press release, Lopez announced a detailed itinerary. The tour launched September 28, 2007 at the Mark G.Etess Arena and ended on November 7, 2007 at the American Airlines Arena in Miami, Florida. The lead single, "Que Hiciste" (Spanish for "What Did You Do?"), was officially released to radio stations in January 2007. Since then, it has peaked at 86 on the U.S. Billboard Hot 100 and number one on the Hot Lation Songs and the Hot Dance Club Play. It also went top ten on the European chart. The video for the song was the first Spanish-language video to peak at number one on MTV's Total Request Live daily countdown. The second single released is called "Me Haces Falta" and the third is "Por Arriesgarnos". Lopez won an American Music Award as the Favorite Latin Artist in 2007. With Como Ama Una Mujer, Jennifer Lopez is one of the few performers to debut in the top 10 of the Billboard 200 with a Spanish album.
Lopez released her fifth English studio album (sixth studio album overall) Brave on October 9, 2007, six months after Como Ama una Mujer was released. She collaborated with producers Midi Mafia,J.R.Rotem, Lynn and Wade and Ryan Tedder, with Rotem working on some tracks with writing partner Evan "Kidd" Bogart.Earlier, on August 26, 2007, ABC premiered a promo for the fourth season of Desperate Housewives, featuring a snippet of the song "Mile In These Shoes". "Do It Well" was released as the lead single and reached the top 20 in many countries. "Hold It,Don't Drop It" was released as the second single in certain European territories only. The third single was set to be the title track "Brave", and it was even posted on director Micheal Hassman's official website that filming of the music video for the song had completed, however, the release of "Brave" as a single was eventually scrapped, most likely due to low album sales.
2009-2014: Departure from Sony and Love?Edit
From her 2007 pregnancy Lopez had been writing her then-confirmed seventh studio album, Love? due for release in Summer 2010. It features productions from Danja ,Jim Jonsin, Darkchild , Chris n Teeb (from Dropzone), Trickey Stewart , The-Dream, D'Mike Mike Caren, Jean Baptiste and The Neptunes. A song titled "Fresh Out The Oven" featuring Miami rapper Pitbull surfaced online in October 2009 but her record label said that it was simply a buzz single. It has since topped the Hot Dance Club Songs chart. The project's official lead sing "Louboutins", had it's radio debut on November 23, 2009, following the song's premiere and performance at the 2009 American Music Awards.The song only managed to enter the Hot Dance Club Play chart six weeks after release and reaching number 1, however, it failed to enter any other chart, including the Billboard Hot 100. In late February 2010, it was confirmed that Lopez and Epic Records have parted ways.
Lopez's manager, Benny Medina confirmed the news saying "Jennifer had a wonderful relationship with the Sony Music Group, and they have shared many successes together, but the time was right to make a change that best serves the direction of her career as an actress and recording artist, she is grateful and appreciative to everyone at Sony for all that they accomplished together." Lopez later released a statement to the media where she said that she had already completed her contractual obligations with Sony Music Entertaiment and Epic Records and decided it was for the best to end the partnership on amicable terms. She added that she found a new "home" [record label] for the album 'Love?' and it will be coming out Summer 2010. Shortly after being spotted talking to Island Def Jam Music Group's chairman and CEO L.A Reid, it was confirmed on March 19, 2010 that Lopez signed with Def Jam Recordings, and is working on new material for Love? with RedZone Entertainment ( Kuck Harrell, The-Dream and Tricky Stewart).
2014-present: A.K.A.Edit
Lopez performed her new single, "I Luv Yah, Papi" on Idol on March 20, 2014 with Pia Toscano, Allison Iraheta, and Jessica Sanchez. The single is off of her album A.K.A., which was released on June 17, 2014. The album also features the single, "First Love". Lopez will also be in Brazil to perform at the World Cup.
Acting Career
Edit
Lopez's first television job as an actress was on the Fox series South Central.She also made guest appearances in Second Chances and Hotel Malibu. She then appeared in the made-for-television film Nurses on the Line: The Crash of Flight 7. Lopez's first serious screen role was in Gregory Nava's 1995 drama My Family, playing the character of Young Maria in the 1920s. After starring alongside Jimmy Smits and Edward James Olmos in My Family, Lopez starred in the action film Money Trian opposite Wesley Snipes and Woody Harrelson. In 1996, she pipped Ashley Judd and Lauren Holly to the supporting role in FranicFord Coppola's 1996 comedy Jack starring Robin Williams. She then starred opposite Jack Nicholson in Bob Rafelson's well-received noir thriller Blood and Wine.
Lopez's first big break came in 1997, when she was chosen to play the title role in Selena, a biopic of the Tejano pop singer Selena.Despite having previously worked with Nava on Mi Familia, Lopez was subjected to an intense auditioning process before landing the role. She earned widespread praise for her performance, including a Golden Globe Award nomination for "Best Actress - Motion Picture Musical or Comedy ". Later that year, Lopez appeared in two major films. She starred in the horror film Anaonda alongside Ice Cube, Eric Stoltz, Kari Wuher, Owen Wilson, Warren Westridge, Vincent Callenstons and Jon Voight, playing the role of Terri Flores, a director who is shooting a documentary while traveling through the Amazon River. Despite being a modest box office hit, the film was critically panned. Lopez then starred as the leading actress in the neo-noir film U Tum , which is based on the book Stray Dogs, starring alongside Sean Penn and Billy Bob Thornton.
In 1998, she had one of her most acclaimed roles, starring opposite George Clooney in Out of Sight, Steven Soderbergh's adaptation of the Elmore Leonard novel. Cast as a deputy federal marshal who falls for a charming criminal, Lopez won rave reviews for her tough performance and in the process she became the first Latina actress to earn over $1 million for a role. That same year, she provided the voice for Azteca on the computer-animated film Antz. Lopez then starred opposite Vincent D'Onofrio, in the psychological thriller film The Cell. She portrayed Catherine Deane, a child psychologist who uses virtual reality to enter into the minds of her patients to coax them out of their comas. The film was released in August 2000 and became a box office success opening at number one. The following year, Lopez took a break from acting in films, in order to work on her music career.
In 2001, Lopez starred alongside Matthew McConaughey in the romantic comedy The Wedding Planner. The film debuted at number one, making her the first actress and singer in history to have a film and an album, J.Lo, at number one in the same week. Her next roles were in the supernatural romance Angle Eyes(2001), and in the psychological revenge thriller Enough (2002). Both failed to find an audience, and were met with a negative response from critics. She appeared alongside Ralph Fiennes in the romantic comedy film Maid in Manhattan (2002). Her character, Marisa Ventura, is a struggling single mother who lives in the Bronx and makes her living cleaning rooms in a super-luxurious Manhattan hotel, and gets mistaken for a socialite by a princely politician. Maid in Manhattan was a box office hit, opening at number one. The New York Times compared the film's storyline to her 2002 song, "Jenny from the Block", commenting, "In her new single, Jenny From the Block, Jennifer Lopez declares that despite her enormous wealth and global fame, she has not lost touch with her roots."
Some of her other critically-acclaimed films include An Unfinished Life and Shall We Dance?. Two independent films produced by Lopez were well-received at film festivals: El Cantante at the Toronto International Film Festival, and Bordertown at the Brussels film festival. Her modestly successful film career includes Monster-in-Law (2005). Gigli, however, would become a notorious box office bomb. In August 2007, Lopez collaborated on the feature film, El Cantante, with her husband – singer-actor Marc Anthony. The film is in English, with creative use of subtitles for songs with Spanish lyrics. In 2010, she appeared in the romantic comedy The Back-up Plan.
Lopez is one of the highest-paid actresses in Hollywood and the highest-paid Latin actress in Hollywood history, though she's never had a film grossing over $100 million in the USA. She was on The Hollywood Reporter's list of the top ten actress salaries in 2002, 2003, and 2004. Lopez received $15 million for her role in Monster-in-Law. Her top-grossing film domestically is Maid in Manhattan which grossed $94,011,225, and her most successful international film,Shall We Dance?, grossed $112,238,000, at the international box office. Domestically, Shall We Dance? grossed $57,890,460 and a total of $170,128,460 worldwide. In 2007, Lopez made the Forbes magazine's list of "The 20 Richest Women In Entertainment," ranking ninth. Her wealth was estimated to be $110 million in 2007.
On January 27, 2010, it was announced that Lopez will guest-star on an episode of How I Met Your Mother as Anita Appleby, a no-nonsense author of self-help books that teach women how to mold men into "relationship machines" through the power of denial. After Robin informs Anita of Barney's womanizing ways, Anita sets out to "break" him.
Personal Life
Edit
Lopez's personal life has generated much attention especially from the tabloid press. She has been married three times. Her first, to Cuban-born Ojani Noa, ended in divorce in January 1998 after 11 months of marriage. Her second marriage, to dancer Cris Judd, also ended in divorce in June 2002 after only 9 months. She was married to Latin singer Marc Anthony from 2004-2014. The couple have two children together, twins Max & Emme, born in 2008.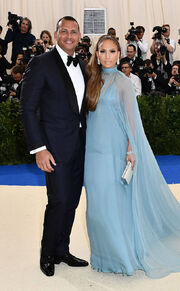 After the announcement of her marriage to Anthony ending, Lopez was romantically linked to actor Bradley Cooper, who had been named
People
magazine's Sexiest Man Alive at the time. She dated dancer Casper Smart, who is 18 years her junior, from 2011-2016. She has been dating former New York Yankees third baseman Alex Rodriguez since spring 2017.
Relationship with Diddy
Edit
One of Lopez's most high-profile romances was a two-and-a-half-year relationship with hip-hop mogul Sean Combs. On December 27, 1999, Lopez and Combs were at Club New York, a midtown Manhattan nightclub, when gunfire erupted between Combs' entourage and another group. Lopez and Combs were being driven away from the scene when they were chased and stopped by the police. A gun was found in the front seat of their vehicle. Combs was charged with felony gun possession. Stress over Combs' trial and pursuit by the press multiplied their problems, and Lopez terminated her involvement with Combs one year later. During a related civil suit in 2008, the plaintiff's lawyer said Lopez had "nothing to contribute to the case".
"Bennifer"
Edit
Following her divorce from second husband Cris Judd, Lopez began dating actor & Oscar-winning screenwriter Ben Affleck. Her relationship with Affleck was highly publicized, with the media dubbing the couple "Bennifer". Lopez announced her engagement to Affleck in November 2002, after Affleck gave her a six-carat pink diamond ring from Harry Winston worth a reported $1.2 million. Lopez promised interviewers that Affleck was indeed "the one", and that they would soon have a family. The marriage, planned for September 14, 2003 in Santa Barbara, California, was called off just hours before the event. They announced the end of their engagement in January 2004. Their relationship was parodied on the South Park episode "Fat Butt and Pancake Head", which aired on April 16, 2003. In 2003, Lopez and Affleck acted together in the film "Gigli" and in the 2004 film " Jersey Girl." Both movies were flops at the box office.
Discography
Edit
1999: On the 6
2001: J.Lo
2002:

This Is Me...Then

2005: Rebirth
2007:

Como Ama una Mujer

2007: Brave
2011: Love?
2014: A.K.A

Other albums:
2002: J to tha L-O!: The Remixes
References
Edit
Ad blocker interference detected!
Wikia is a free-to-use site that makes money from advertising. We have a modified experience for viewers using ad blockers

Wikia is not accessible if you've made further modifications. Remove the custom ad blocker rule(s) and the page will load as expected.