Jasmine Murray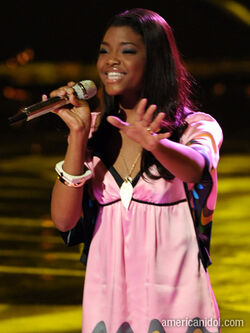 Birth Name
Jasmine Sharee Murray
Audition City
Jacksonville, Florida
Jasmine Sharee Murray (born March 14, 1992) is an American singer from Starkville, Mississippi. She is best known for being a finalist on American Idol 8 where she became the second Wild Card finalist to be eliminated in the first episode of the finals. She also competed in the Miss America's Outstanding Teen pageant in 2007. Her musical influences include Christina Aguilera. Recently, April 14 has been named Jasmine Murray Day in Brookhaven, Mississippi. On this day she signed autographs for her fans in Brookhaven.
Biography
Edit
Jasmine Murray was born in Columbus, Mississippi, but later moved to Starkville. She is the daughter of Lisa Murray and is the youngest of five children. According to the audition segments, she is eleven years younger than the fourth. Her mother suffered severe toxemia when pregnant with her.
Education
Edit
Murray was a student at the Mississippi School of the Arts when she tried out for the show. She graduated in 2010.
Murray competed in the Miss Mississippi's Outstanding Teen pageant in 2006 and placed fourth runner-up. The following year, competing as Miss Houston/North Central, she won the Miss Mississippi's Outstanding Teen title. In August of that year she represented Mississippi in the Miss America's Outstanding teen pageant, the teen version of Miss America, where she placed tenth. In 2008 she won first place for the pageant's Mentor Club Scholarship, an opportunity open to former contestants.
Miss Mississippi
Edit
On July 12, 2014, Murray competed in and won the Miss Mississippi pageant, resulting in her being able to compete in the Miss America pageant, which was held in Atlantic City, New Jersey on September 14, 2014.
American Idol
Edit
She auditioned for the eighth season of American Idol in Jacksonville, Florida on a whim after travelling to Orlando, Florida to attend the 2008 Miss America's Outstanding Teen pageant. She was eliminated in the second Semi-final of Season 8, but was brought back for the Wild Card round, and the judges chose her to join the top 13. She was the first contestant to be eliminated in the finals, and the second Wild Card finalist to be eliminated in the first episode of the finals in American Idol history, thus joining Leah LaBelle.
Performances/Results
Edit
| | | |
| --- | --- | --- |
| Week # | Song choice | Result |
| Audition | "Big Girls Don't Cry" | Advanced |
| Hollywood | "The Trouble with Love Is" | Advanced |
| Hollywood | "Mercy" | Advanced |
| Hollywood | "Tattoo" | Advanced |
| Top 36/Semi-Final 2 | "Love Song" | Eliminated1 |
| Wild Card | "Reflection" | Selected |
| Top 13 | "I'll Be There" | Eliminated |
Note 1: Murray was initially eliminated, as she did not receive enough votes to advance immediately to the Top 12. However, on the March 4 results show, Kara DioGuardi selected her as one of the 8 Wild Card contenders.
Post-Idol Career
Edit
Murray has been on The Ellen Degeneres Show and Live with Regis and Kelly with also-cast-off contestant Jorge Núñez.
She sang the national anthem at a Michigan State basketball game.
She competed for Miss America 2015 as Miss Mississippi and finished in the Top 10.
Ad blocker interference detected!
Wikia is a free-to-use site that makes money from advertising. We have a modified experience for viewers using ad blockers

Wikia is not accessible if you've made further modifications. Remove the custom ad blocker rule(s) and the page will load as expected.