Janelle Arthur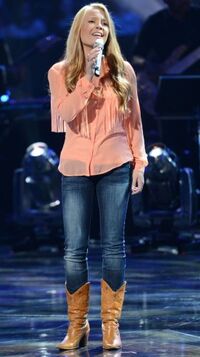 Birth Name
Janelle Oredith Arthur

Janelle Oredith Arthur (born December 12, 1989) is an American country singer from Oliver Springs, Tennessee who finished in 5th place on season 12 of American Idol.
Background
Edit
Janelle first got her start at age 8 when she portrayed a young Dolly Parton in a musical production at Dollywood. She even got to meet Parton herself.
Janelle was working as a Zumba instructor when she decided to try out for the show.
American Idol
Edit
Like winner Candice Glover, Janelle had tried out for Idol twice before(season 10 and season 11 for her). She tried again, this time in Charlotte, North Carolina, where she sang "Where The Blacktop Ends" by current Idol judge Keith Urban who, along with his fellow judges, was wowed by her pretty voice. She made it through Hollywood, and despite some struggles during the "sudden death" round and the semifinals, she made it to the top 10. During the Top 10, Janelle performed "Gone" by Montgomery Gentry, which was performed by Scotty McCreery during season 10. The result of her performing that song helped her make it to the Top 9. During the Top 9, Janelle performed "I Will", which is from the Beatles' 1968 album popularly known as "The White Album", from the Lennon-McCartney songbook. The result of her song helped her make it to the Top 8. Janelle then took on the Supremes' "You Keep Me Hanging On" with an arrangement she said she had composed when she was 14. Her rendition of the song and her duet with Kree Harrison of Madonna's "Like A Prayer" earned her a spot in the top 7. Janelle's performance of Billy Joel's "You May Be Right" during Rock Week earned her a spot in the top 6. She made it to the top 5 with her versions of "I'll Never Fall in Love Again" from the musical Promises, Promises and "The Dance" by Garth Brooks. For top 5 week, Janelle chose "When I Call Your Name" by Vince Gill and "Dumb Blonde" by Dolly Parton, who later sent Janelle a note praising her on her performance of that song.
Despite the crowd's screaming for her to be saved, Janelle was eliminated on April 18, 2013, finishing in 5th place.
Performances
Edit
Episode
Theme
Song choice
Original artist
Order #
Result
Audition
Auditioner's Choice
"Where the Blacktop Ends"
Keith Urban
N/A
Advanced
Hollywood Round, Part 1
A Capella
"I'm So Lonesome I Could Cry"
Hank Williams
N/A
Advanced
Hollywood Round, Part 2
Group Performance
Trio: "Be My Baby" with Angie Miller, Breanna Steer, and Kez Ban
The Ronettes
N/A
Advanced
Hollywood Round, Part 3
Solo
"I Told You So"
Randy Travis
N/A
Advanced
Las Vegas Round
Personal Choice
"Just a Kiss"
Lady Antebellum
9
Advanced
Top 20 (10 Women)
Personal Choice
"If I Can Dream"
Elvis Presley
4
Advanced
Victory Song
"Home"
Dierks Bentley
6
Top 10
Music of the American Idols
"Gone"
Montgomery Gentry
2
Saf
Top 9
The Beatles
"I Will"
The Beatles
9
Safe
Top 8
Music of Motor City
Duet: "Like a Prayer" with Kree Harrison
Madonna
2
Safe
Solo: "You Keep Me Hangin' On"
The Supremes
4
Top 7
Rock
Solo: "You May Be Right"
Billy Joel
5
Bottom 2
Trio: "It's Still Rock and Roll to Me" with Kree Harrison and Amber Holcomb
7
Top 6
Burt Bacharach & Hal David
"I'll Never Fall in Love Again"
Burt Bacharach
5
Safe
Songs They Wish They'd Written
"The Dance"
Garth Brooks
11
Top 5
Year They Were Born
"When I Call Your Name"
Vince Gill
2
Eliminated
Divas
"Dumb Blonde"
Dolly Parton
7
Post Idol
Edit
Janelle was a part of the American Idols Live tour, which kicked off on July 19, 2013 in Kent, Washington and ended on August 31, 2013 in Nashville. She got to perform with The Band Perry at the Idol finale on May 16, 2013.
Janelle has been busy writing songs and even got a chance to perform on CMA Country Christmas on December 2, 2013. She had also been cheering on her friend Ben Briley as he competed on season 13 of Idol. She debuted a new song, "What You Asked For", on Idol Insider on VEVO on April 11, 2014. The song was released as a single on July 29, 2014. Her debut EP, Janelle, was released on November 6, 2015 via iTunes and Amazon Music.
Discography
Edit
EPs:
Singles:
"What You Asked For" (2014)
Ad blocker interference detected!
Wikia is a free-to-use site that makes money from advertising. We have a modified experience for viewers using ad blockers

Wikia is not accessible if you've made further modifications. Remove the custom ad blocker rule(s) and the page will load as expected.