Jacee Badeaux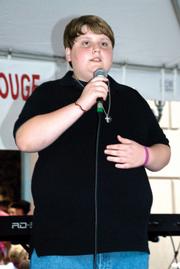 Born
Lafayette , Louisiana
Audition City
New Orleans
Jacee Badeaux drew rave reviews in his Season 10 audition in New Orleans. J-Lo cooed, "So sweet and SOOOO CUUUUUTE!"
He first tried out in Baton Rouge among 80 performers where he sang "God Bless the Broken Road" by Rascal Flatts.
But it was his rendition of Otis Redding's "Sitting on the Dock on the Bay" that got the media pontificating that he could be the next Justin Bieber.
Jacee made it through to the Vegas round but didn't make it to the top 24. 
Ad blocker interference detected!
Wikia is a free-to-use site that makes money from advertising. We have a modified experience for viewers using ad blockers

Wikia is not accessible if you've made further modifications. Remove the custom ad blocker rule(s) and the page will load as expected.