Hollie Cavanagh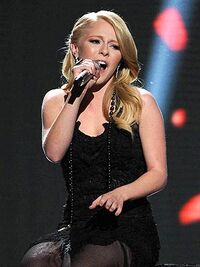 Birth Name
Hollie Jessica Cavanagh

Hollie Jessica Cavanagh (born July 5, 1993) is a British-born American pop singer from McKinney, Texas who finished in 4th place on season 11 of American Idol.
Early Life
Edit
Cavanagh was born in Liverpool, Merseyside, UK and came to the United States in 2002 when she was 8 years old, settling in McKinney, Texas, a suburb of Dallas. In addition to parents Peter and Lorraine, Hollie has two older brothers, Luke and Aaron, as well as a dog named Shankley. She loves soccer and is a fan of Liverpool F.C. She graduated from McKinney Boyd High School in 2011.
American Idol
Edit
Cavanagh originally auditioned for the show in season 10 but was cut after making the top 41. Idol judge Jennifer Lopez encouraged Cavanagh to get better and come back, which she did when she tried out again for season 11 in Houston. This time, she made it to the top 25 and then the top 13. However, after some appearences in the bottom 3, some fans of hers expressed worry that Cavanagh was receiving the same bias and unfair treatment that season 10 alum Haley Reinhart received during her time on the show. Many did notice, however, that Cavanagh was improving as both a singer and performer week after week. Despite the improvements and a very loyal fanbase, known as "Holliepops", Cavanagh was eliminated on May 10, 2012, finishing in 4th place.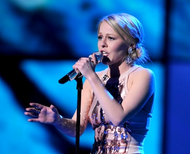 Post-Idol
Edit
After her elimination, Cavanagh appeared on various talk shows like The Tonight Show with Jay Leno and Live with Kelly. She even did an appearence at Kohl's in Los Angeles promoting the new AI Authentic Icon clothing line on May 16, 2012. Cavanagh got to perform the song "You'll Never Walk Alone" with season 6 winner Jordin Sparks at the Idol finale on May 23, 2012.
Cavanagh hit the road with the top 10 for the American Idols Live tour, which kicked off in Detroit, Michigan on July 6, 2012, the day after her 19th birthday.
Cavanagh's first EP, Hollie Cavanagh: American Idol Season 11 Highlights, was released at Walmart on July 3, 2012. As of September 2012, it has sold 13,000 copies.
Cavanagh has since moved to Los Angeles to focus on her music career. She is currently working on her first album. Her first single, "Outer Limit" , was released on July 15, 2013. Her second single, "Girlfriend", was released on November 25, 2013. A new single, "Come Away With Me Tonight", was released on April 10, 2015. She collaborated with singer Melodye Perry on the song "I Remember Nicole: A Global Anthem Reclaiming Power over Domestic Violence", which was released on January 10, 2018.
Discography
Edit
Singles:
"Outer Limit" (2013)
"Girlfriend" (2013)
"Come Away With Me Tonight" (2015)
"I Remember Nicole: A Global Anthem Reclaiming Power over Domestic Violence" (collaboration with Melodye Perry) (2018)
EP(s):
Hollie Cavanagh: American Idol Season 11 Highlights (2012)