Heejun Han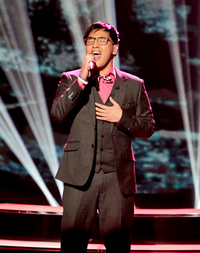 Heejun Han (born Han Hee Jun on April 20, 1989) is a South Korean-born singer living in Flushing, Queens, New York who finished in 9th place on season 11 of American Idol.
American Idol
Edit
He tried out for the show in Pittsburgh, impressing the judges with his rendition of the Michael Bolton version of the Laura Branigan song "How Am I Supposed to Live Without You". His audition proved so good that it even brought judge Jennifer Lopez to tears. He progressed through the competition and, despite a feud with fellow contestant Richie Law that started during the group round portion of Hollywood week, made it to the top 25 and then the top 13. During his time on the show, he became known for his humor, which delighted some but annoyed others, in-house mentor Jimmy Iovine being one of them. Han also became close friends with winner Phillip Phillips. Before Idol, Han worked as a non-profit organizer, working with children with special needs. He credits his work with the children with helping him overcome depression. He also gave the children credit for motivating him to audition for Idol. Han was eliminated on March 29, 2012, finishing in 9th place.
Ad blocker interference detected!
Wikia is a free-to-use site that makes money from advertising. We have a modified experience for viewers using ad blockers

Wikia is not accessible if you've made further modifications. Remove the custom ad blocker rule(s) and the page will load as expected.