Dexter Roberts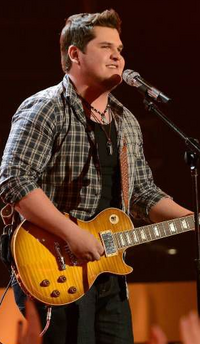 Birth Name
Dexter Roberts
Audition City
Salt Lake City

Dexter Roberts (born July 12 1991) is an American country singer from Fayette, Alabama who finished in 7th place on Season 13 of American Idol.
Background
Edit
Born in Tuscaloosa, Alabama and raised in nearby Fayette, Dexter first started performing on stage when he was 5. His grandmother later bought him a guitar a week after his stage debut. Dexter describes himself as a self-taught singer and musician, preferring to play by ear. 
Dexter was working various jobs including one as a lifeguard in between playing gigs when he tried out for the show.
American Idol
Edit
Dexter tried out for the show in Salt Lake City, singing "Drive" by season 9 alum Casey James. Impressed by his country-style vocals and friendly, down-home personality, Dexter made it to Hollywood where he did well and and made it to the top 30 and then the top 13.
For "This is Me" week, Dexter sang "Aw Naw" by Chris Young. The judges enjoyed it as did the public, who voted him through to the next week.
For "Home" week, Dexter sang "Lucky Man" by Montgomery Gentry, which earned him good reviews fro the judges.
For "Songs from the Movies" week, Dexter sang the Lynyrd Skynyrd classic "Sweet Home Alabama", even putting in "Roll, Tide, Roll!", the popular University of Alabama chant, into the song during his performance. The song, featured in several films including 1994's Forrest Gump, helped him earn his place on the 2014 American Idols Live tour.
For "Billboard Top 10" week, Dexter sang "Cruise" by Florida Georgia Line. However, his perforacne of it resulted in him being in the bottom 3. He was declared safe.
For "Back to the Start" week, instead of singing "Drive", the song viewers saw him sing when his audition aired, Dexter sang another audition song, "One Mississippi" by Brett Eldredge. It earned him praise from the judges. He then teamed up with his friend CJ Harris on the Dairus Rucker song "Alright".
For "Songs from the 80s" week, Dexter took on the Georgia Satellites hit "Keep Your Hands to Yourself", a song he had performed many times in bars. It earned him praise from the judges even though some people on Twitter referred to it as dull. He then teamed up with Jessica Meuse on the Kenny Rogers/Dolly Parton classic "Islands in the Stream".
For "Competitior's Choice" week, CJ chose "Muckalee Creek Water" by Luke Bryan for Dexter. The performance earned him good reviews from the judges, but Harry Connick, Jr. told him that he felt that Dexter didn't do anything different with the song even though it was CJ who chose it for him. Both guys later teamed up with Jessica on the Lady Antebellum song "Compass". Both performances would end up being Dexter's last ones as he was eliminated on April 17, 2014, finishing in 7th place.
Performances
Edit
Episode
Theme
Song choice
Original artist
Result
Audition
Choice
"Drive"
Casey James
Advanced
Hollywood Week, Part 1
A Capella
"Barton Hollow"
The Civil Wars
Advanced
Hollywood Week, Part 2
Group
"I Want it That Way"
Backstreet Boys
Advanced
Hollywood Week, Part 3
Choice
"Farmer's Grandson"
Dexter Roberts
Advanced
Top 10 Guys
Choice
"This Ole Boy"
Joe Nichols
Advanced
Top 13
This is Me
"Aw Naw"
Chris Young
Safe
Top 12
Home
"Lucky Man"
Montgomery Gentry
Safe
Top 11
Songs from the Cinemas
"Sweet Home Alabama"
Lynyrd Skynyrd
Safe
Top 10
Billboard Top 10 Charts
"Cruise"
Florida Georgia Line
Bottom 3
Top 9
(I'm With The) Band!
"Boondocks"
Little Big Town 
Safe
Top 8 (first week)
Back to the Start
"One Mississippi"
Brett Eldredge
Safe
Duet "Alright"
with CJ Harris
Darius Rucker
Top 8 (second week)
Songs from the 1980s
"Keep Your Hands to Yourself"
The Georgia Satellites
Safe
Duet "Islands in the Stream"
with Jessica Meuse
Kenny Rogers and Dolly Parton
Top 7
Competitor's Choice
"Muckalee Creek Water"
Luke Bryan
Eliminated
Trio "Compass"
with CJ Harris and Jessica Meuse
Lady Antebellum
Post Idol
Edit
Dexter had been a part of the American Idols Live tour, which kicked off in Binghamton, New York on June 24, 2014, but he left the tour on July 1, 2014 and, according to Yahoo! Music, was released from his contract. He later released a statement explaining that he had left the tour due to being diagnosed with Rocky Mountain Spotted Tick Fever, which he contracted after going on a turkey hunt in Kentucky after the finale.
Record deal
Edit
On December 16, 2014, Dexter announced that he has signed a deal with First Launch Records. His debut single, "Dream About Me", was released on iTunes on March 12, 2015. His debut EP of the same name was released on March 24, 2015. There are also plans for an album.
Discograhpy
Edit
EPs:
Singles:
Ad blocker interference detected!
Wikia is a free-to-use site that makes money from advertising. We have a modified experience for viewers using ad blockers

Wikia is not accessible if you've made further modifications. Remove the custom ad blocker rule(s) and the page will load as expected.