DeAndre Brackensick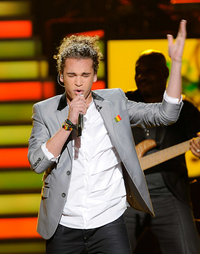 Birth Name
DeAndre Scot Brackensick

DeAndre Scot Brackensick (born October 21, 1994) is an American R&B singer from San Jose, California who finished in 8th place on season 11 of American Idol.
Early Life
Edit
Born in San Jose, California, Brackensick graduated from Oak Grove High School, where he was named homecoming king, in 2012. He was actively involved in his school's Theater Arts Program and was also president of the Polynesian Club as well.
American Idol
Edit
Brackensick originally auditioned for the show in
season 10
but was cut in the "Green Mile" round because the judges felt that he wasn't ready. He decided to give the show another shot and auditioned again, this time making it to the
top 25 and then the top 13 as a wild card choice. He was praised frequently by the judges for his smooth vocals and was also a live audience favorite. After his performance of the Stevie Wonder song "Master Blaster", judge
Randy Jackson
told Brackensick that he was the most commericial ready out of the contestants. Brackensick even got a thrill when he got to meet one of his idols, R&B singer Eric Benet.
Brackensick ended up eliminated on April 5, 2012, finishing in 8th place. Judge Jennifer Lopez admitted to wanting to use the "judges' save" on him but because it had to be a unanimous decision among the judges and it wasn't, Brackensick was eliminated.
Post-Idol
Edit
After his elimination, Brackensick went on several talk shows and was a part of the American Idols Live tour, which kicked off on July 6, 2012 in Detriot, Michigan, with the rest of the top 10.  He's also been focused on his music, signing a deal with an upstart label called Truth Records. His first single, "Her Crazy", was released on June 4, 2013.
Personal Life
Edit
Brackensick and season 11 runner-up Jessica Sanchez did confirm that they were dating in July 2012. However, Sanchez said in a May 2013 interview that they had split up.
Discography
Edit
Singles:
Ad blocker interference detected!
Wikia is a free-to-use site that makes money from advertising. We have a modified experience for viewers using ad blockers

Wikia is not accessible if you've made further modifications. Remove the custom ad blocker rule(s) and the page will load as expected.