Casey Abrams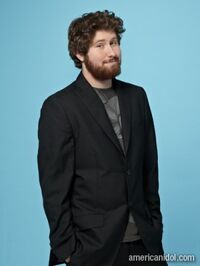 Audition City
Austin, Texas

Casey Abrams (born February 12, 1991) is an American jazz/blues singer from Illinois and currently resides in Idyllwild, California. Abrams finished in sixth place on season 10 of American Idol.
Biography
Edit
Abrams was born on February 12, 1991 in Austin, Texas to Pam Pierce and Ira Abrams. He spent many of his early years in the Chicago area, first in Evanston, Illinois, then in Wilmette, Illinois. He later moved to California and attended middle school and high school there. He was a student at Idyllwild Arts Academy in Idyllwild, California, where his father teaches film production. His former fellow contestant Julie Zorrilla was also a student there and she was his prom date in their freshman year. After graduating from Idyllwild in 2009, he attended University of Colorado at Boulder, Colorado as a music major. He worked as a film camp counselor in Idyllwild prior to his appearance on American Idol.
He lists as his musical influence Ray Charles, Frank Sinatra, Oscar Peterson, and James Taylor, as well as the head of the Jazz Department at his school, Idyllwild Arts Academy, Marshall Hawkins.
He suffers from ulcerative colitis, a disease which causes sores on the colon and intestine, and which resulted in him being hospitalized while on American Idol requiring blood transfusions.
American Idol
Edit
Abrams auditioned for the tenth season of American Idol in Austin, Texas. He was selected as one of the Top 24 semi-finalists, but two days before he was due to perform for the semi-finals, he suffered severe stomach pains and was rushed to the hospital. He was well enough to perform on the performance night, and was one of the five male vote getters to advance to the Top 13; however, he missed the Top 13 results show due to his illness.
On March 24, 2011, Abrams wound up in the bottom 3 for the first time, but judges Randy Jackson, Jennifer Lopez, and Steven Tyler decided to use the "judges save", allowing Abrams to stay in the competition. He is the third finalist to be saved by the judges. (Matt Giraud from season 8, Michael Lynche from season 9, Jessica Sanchez from season 11, and Sam Woolf from season 13 are the other four) He got eliminated even though they saved him, but he was later eliminated on April 28, 2011 finishing in sixth place.
Performances
Edit
Episode
Theme
Song choice
Original artist
Order #
Result
Audition
Auditioner's Choice
"I Don't Need No Doctor"
Ray Charles
N/A
Advanced
Hollywood Round, Part 1
First Solo
"Lullaby of Birdland"
Ella Fitzgerald
N/A
Advanced
Hollywood Round, Part 2
Group Performance
"Get Ready"
The Temptations
N/A
Advanced
Hollywood Round, Part 3
Second Solo
"Georgia on My Mind"
Hoagy Carmichael
N/A
Advanced
Las Vegas Round
Songs of The Beatles
"A Hard Day's Night"
The Beatles
N/A
Advanced
Hollywood Round Final
Final Solo
"Why Don't You Do Right?"
Kansas Joe McCoy
N/A
Advanced
Top 24 (12 Men)
Personal Choice
"I Put a Spell on You"
Screamin' Jay Hawkins
12
Advanced
Top 13
Your Personal Idol
"With a Little Help from My Friends"
The Beatles
2
Safe
Top 12
Year You Were Born
"Smells Like Teen Spirit"
Nirvana
10
Safe
Top 11
Motown
"I Heard It Through the Grapevine"
The Miracles
1
Saved
Top 11
Elton John
"Your Song"
Elton John
9
Safe
Top 9
Rock & Roll Hall of Fame
"Have You Ever Seen the Rain?"
Creedence Clearwater Revival
3
Safe
Top 8
Songs from the Movies
"Nature Boy"
Nat King Cole
5
Safe
Top 7
Songs from the 21st Century
"Harder to Breathe"
Maroon 5
5
Safe
Top 6
Carole King
Duet "I Feel the Earth Move"
with Haley Reinhart
Carole King
3
Eliminated
Solo "Hi-De-Ho"
The City
7
Personal Life
Edit
During his time on Idol, Abrams and fellow contestant Haley Reinhart became close mostly because their mutual love of music especially jazz and their shared Idol experience. Their closeness as well as their onstage chemistry while performing the songs Moanin' and I Feel The Earth Move resulted in rumors that claimed that the two were dating, which they each denied in post-Idol interviews they gave after each was eliminated. They admitted to being best friends, and Abrams even referred to them once as being "musical soulmates" as shown when he and Reinhart chose to work together on their version of Baby, It's Cold Outside.
Post-Idol
Edit
Abrams appeared and performed on The Tonight Show with Jay Leno on April 29, 2011, and Live with Regis and Kelly on May 2, 2011. Casey also appeared on MTV's The Seven on May 2, 2011. He is also one of the performers in the 2011 American Idols Live Tour, which began in West Valley City, Utah, on July 6, 2011, and will end in Rochester, New York, on September 10, 2011. He appeared and performed on The Ellen Degeneres Show on May 5, 2011. On May 25, 2011, Abrams sang the Queen classic "Fat Bottomed Girls" with Jack Black on the American Idol finale.
On January 9, 2012, Abrams signed with Concord Music Group. His self-titled debut album was released on June 26, 2012. The album's first single, "Get Out", was released on June 5, 2012. The album also contains a cover of the Ray Charles classic "Hit The Road Jack", which features Haley Reinhart. The album has so far sold 23,000 copies.
Abrams returned to Idol on March 21, 2013 to perform the Beatles classic "I Saw Her Standing There".
Baby, It's Cold OutsideEdit
Abrams and fellow season 10 finalist Haley Reinhart released their rendition of Baby, It's Cold Outside on November 21, 2011, just in time for the holiday season. The song's video debuted on iTunes on November 15, 2011. The song has sold over 25,000 copies to date.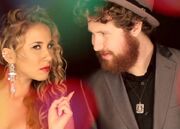 Discography
Edit
Albums:

Singles:
Baby, It's Cold Outside (duet with Haley Reinhart) (2011) (non-album single)
Ad blocker interference detected!
Wikia is a free-to-use site that makes money from advertising. We have a modified experience for viewers using ad blockers

Wikia is not accessible if you've made further modifications. Remove the custom ad blocker rule(s) and the page will load as expected.