Carrie Underwood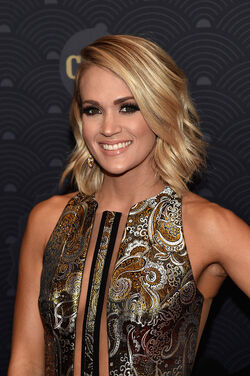 Birth Name
Carrie Marie Underwood
Audition City
St. Louis, Missouri
Carrie Marie Underwood (born March 20, 1986 in Checotah, Oklahoma) is an American singer, songwriter, and actress. She rose to fame as the winner of season four of American Idol in 2005. Following her victory Underwood became a country music sensation, winning seven Grammy Awards among many other achievements.
Early Life
Edit
Underwood was born on March 10, 1983 in Checotah, Oklahoma. Underwood is the youngest of three daughters. She began singing in church at an early age, and as she grew older her mother would drive her to talent shows and local events to perform.
A local admirer arranged for her to go to Nashville when she was 14 to audition for Capitol Records. In 1996, Capitol Records was preparing a contract for Underwood but cancelled it when company management changed. Underwood said of the event, "I honestly think it's a lot better that nothing came out of it now, because I wouldn't have been ready then. Everything has a way of working out." While at Checotah High School, she was an Honor Society member, a cheerleader, and played basketball and softball. Underwood graduated from Checotah High School in 2001 as salutatorian. She chose not to pursue singing after graduation. She said, "After high school, I pretty much gave up on the dream of singing. I had reached a point in my life where I had to be practical and prepare for my future in the 'real world'".  She attended Northeastern State University in Tahlequah, Oklahoma, graduating magna cum laude in 2006 with a bachelor's degree in mass communication and an emphasis in journalism. She spent part of one of her summers as a page for Oklahoma State Representative Bobby Frame. She also waited tables at a pizzeria, worked at a zoo, and at a veterinary clinic. Underwood is an alumna of the Alpha Iota chapter of Sigma Sigma Sigma sorority. For two years during the summer, she performed in Northeastern State University's Downtown Country show in Tahlequah. She also competed in numerous beauty pageants at the university and was selected as Miss NSU runner-up in 2004.
2004-05: American Idol Edit
In the summer of 2004, Underwood auditioned for American Idol in St. Louis, Missouri. After she sang "Could've Been" by Tiffany on the top 12 girls night, judge Simon Cowell commented that she would be one of the favorites to win the competition. During the top 11 finalists' performance on the March 22, 2005, Idol episode, Underwood sang a rendition of the number one 1980s rock hit "Alone", made famous by Heart, and Cowell predicted that Underwood would not only win the competition, but she would also outsell all previous Idol winners. One of the show's producers later said she dominated the voting, and never landed in the bottom three. She gained a fan base known as "Carrie's Care Bears" during the course of the show. During the final, she sang with Rascal Flatts their song "Bless the Broken Road". On May 25, 2005, Underwood became the season four winner. Her winnings included a recording contract worth at least a million dollars, use of a private jet for a year, and a Ford Mustang convertible.
American Idol season 4 performances and results
Episode
Theme
Song
Original artist
Order
Result
Auditions
Contestant's choice
"I Can't Make You Love Me"
Bonnie Raitt
N/A
Advanced
Hollywood
"Young Hearts Run Free"
Candi Staton
Top 75
"Independence Day"
Martina McBride
Top 24 (12 women)
"Could've Been"
Tiffany
5
Safe
Top 20 (10 women)
"Piece of My Heart"
Erma Franklin
9
Top 16 (8 women)
"Because You Love Me"
Jo Dee Messina
3
Top 12
Song of the 1960s
"When Will I Be Loved"
The Everly Brothers
11
Top 11
Billboard number ones
"Alone"
Heart
2
Top 10
1990s
"Independence Day"
Martina McBride
8
Top 9
Classic Broadway
"Hello, Young Lovers"
The King and I cast
3
Top 8
Year they were born
"Love Is a Battlefield"
Pat Benatar
7
Top 7
1970s dance music
"MacArthur Park"
Richard Harris
2
Top 6
21st Century
"When God-Fearin' Women Get the Blues"
Martina McBride
1
Top 5
Leiber & Stoller
"Trouble"
Elvis Presley
5
Current Billboard chart
"Bless the Broken Road"
Nitty Gritty Dirt Band
10
Top 4
Country
"Sin Wagon"
Dixie Chicks
1
Gamble & Huff
"If You Don't Know Me by Now"
Harold Melvin & the Blue Notes
5
Top 3
Clive Davis' choice
"Crying"
Roy Orbison
3
Contestant's choice
"Making Love Out of Nothing at All"
Air Supply
6
Judge's choice (Randy Jackson)
"Man! I Feel Like a Woman!"
Shania Twain
9
Final 2
Idol single
"Inside Your Heaven"
Carrie Underwood/Bo Bice
2
Winner
Contestant's choice
"Independence Day"
Martina McBride
4
Producer's choice
"Angels Brought Me Here"
Guy Sebastian
6
Underwood released her Idol coronation single, Inside Your Heaven, on June 14, 2005. The single debuted at #1 on the Billboard Hot 100 Songs chart, making her the first country artist in history to debut at the top of that chart. Underwood released her debut album, Some Hearts, on November 18, 2005. It sold over 315,000 copies in its first week, debuting at #1 on the Billboard Country Albums chart and #2 on the Billboard 200 Albums chart. The album would eventually become the best-selling debut release from a country artist, as well as the best-selling album by an American Idol to date, selling over 8 million copies.
In 2007 she released her second album, Carnival Ride, which contained number one singles "So Small", "All-American Girl", and the Grammy-winning "Last Name."
Underwood's third studio album Play On followed in late 2009, winning the American Music Award for Favorite Country Album and adding to her list of number one hits with "Cowboy Casanova." Her fourth album Blown Away was released in May 2012, and she won another Grammy with the title track, also embarking on a global tour.
In 2014 Underwood released a greatest hits compilation to give herself more time to work on her fifth album. The new single "Something in the Water" won a Grammy for Best Country Vocal Performance and topped the Billboard charts.
She released fifth album, Storyteller, in October 2015 and embarked on another worldwide tour the following year. Underwood received her first-ever nomination in 2016 for the CMA Entertainer of the Year category. She also earned another Grammy nomination for the 2017 ceremony, for her number one hit "Church Bells."
In 2017, Underwood parted ways with 19/Arista Nashville, after twelve years with the label. She signed with UMG's Capitol Nashville, joining label mate Keith Urban. The pair released their collaborative single, "The Fighter."
Official Account
Edit
Personal Life
Edit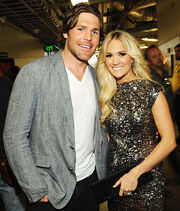 Underwood has been married to Mike Fisher, who plays hockey for the NHL's Nashville Predators, since July 10, 2010. They have a son, Isaiah Michael Fisher, who was born on February 27, 2015.
Discography
Edit
Some Hearts (2005)
Carnival Ride (2007)
Play On (2009)
Blown Away (2012)
Greatest Hits: Decade #1 (2014)
Storyteller (2015)
Inside Your Heaven (2005)
Jesus, Take the Wheel (2005)
Before He Cheats (2006)
Wasted (2007)
So Small (2007)
All-American Girl (2007)
Last Name (2008)
Just A Dream (2008)
I Told You So (2009)
Cowboy Casanova (2009)
Temporary Home (2009)
Undo It (2010)
Mama's Song (2010)
Remind Me (feat. Brad Paisley) (2011)
Good Girl (2012)
Blown Away (2012)
Two Black Cadillacs (2012)
See You Again (2013)
Somethin' Bad (feat. Miranda Lambert) (2014)
Something in the Water (2014)
Little Toy Guns (2015)
Smoke Break (2015)
Heartbeat (2015)
Church Bells (2016)
Dirty Laundry (2016)