Brett Loewenstern is one of season ten's top twenty four contestants. He was eliminated on Thursday, March 3, 2011.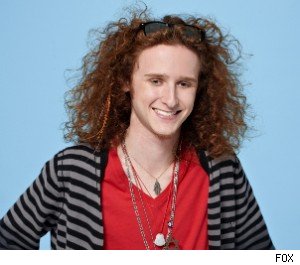 When the judges were deciding who were going to be in the top twelve, Brett, Colton Dixon, and Jaycee Badeaux were the last three boys and only one of them could pass, and they picked Brett.
Top 12 Guys
Edit
After Brett's performence of "Light My Fire", Jennifer Lopez said that Brett just did more hair twirling than her and Beyonce in the last 10 years.
Songs Brett sang

| | | |
| --- | --- | --- |
| Audtion | Bohemian Rhapsody | Judges liked it and let him go through |
| Group song | Mercy | The Judges thought it was Great |
| Top 24 | Light My Fire | Eliminated |

Brett was O.K. during his Top 24 performance, but was not allowed to be a Wild Card pick.
Young years
Edit
When Brett was young, he was picked on and made fun of a lot during school.
In top group week Bretts group was:
Brett, Jaycee, Denise, Natalie , Steve ! They did good ! They all got through
Ad blocker interference detected!
Wikia is a free-to-use site that makes money from advertising. We have a modified experience for viewers using ad blockers

Wikia is not accessible if you've made further modifications. Remove the custom ad blocker rule(s) and the page will load as expected.