Biography
Edit
Garcia was born to Mexican parents. He also has an older brother. Garcia's wife, Christine Concepcion, is a popular artist on YouTube. Garcia has a son, Caeland, with her. Garcia has a tattoo of his son's name on the right side of his neck, a tattoo of an "A" on his wrist, a rose on his front left arm, and a pair of Christine's lips in red on the left side of his neck.


American Idol
Edit
Garcia auditioned for the ninth season in Pasadena, California. He sang "Sunday Morning" there and was praised by all the judges, notably Simon Cowell, who called him a "genuinely good singer," as well as guest judge Katy Perry. He later appeared in Hollywood, where he sang Paula Abdul's song "Straight Up" and since has been particularly known for that performance.
He performed "Sugar, We're Going Down", but according to the judges, did not come up to par with the musicality of "Straight Up", resulting in all four judges calling it "strange" commenting on his past "Straight Up" and urging him to return to the originality of the performance. Lee Dewyze and Andrew have become best friends over the show as told by Lee in his performance of Hey Jude
Andrew Garcia was eliminated on April 14, 2010 along with Katie Stevens. He was eliminated first, near the beginning of the show.
Performances Dates
Edit
1) Sugar, We're Going Down 2/24
Edit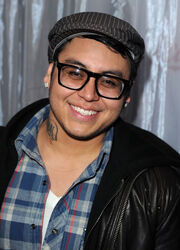 2) You Give Me Something 3/3
Edit
3) Genie in a Bottle 3/10
Edit
4) Gimme Shelter 3/17
Edit
5) I Heard it Through the Grapevine 3/24
Edit
6)Forever 3/30
Edit
7) Can't Buy Me Love 4/6
Edit
8) Hound Dog 4/13
Edit
Voted off:Edit
April 14, 2010Edit
Ad blocker interference detected!
Wikia is a free-to-use site that makes money from advertising. We have a modified experience for viewers using ad blockers

Wikia is not accessible if you've made further modifications. Remove the custom ad blocker rule(s) and the page will load as expected.