Aaron Kelly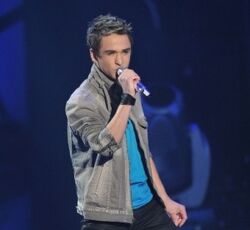 Birth Name
Aaron Wayne Kelly
Audition City
Davenport, Florida
Aaron Wayne Kelly (born April 2, 1993) is an American singer from Sonestown, Pennsylvania who finished fifth on the ninth season of American Idol. Prior to Idol, Kelly was a finalist on America's Most Talented Kid at age 11.
Personal Life
Edit
Click "Edit" now to add information!
American Idol
Edit
Click "Edit" now to add information!
Performances/Results
Edit
Week #
Theme
Song choice
Original artist
Order #
Result
Audition
N/A
"The Climb"
Miley Cyrus
N/A
Advanced
Hollywood
Group Round
"Get Ready"
The Temptations
N/A
Advanced
Hollywood
Second Solo
"Angel"
Sarah McLachlan
N/A
Advanced
Top 24 (12 Men)
Billboard Hot 100 Hits
"Here Comes Goodbye"
Rascal Flatts
2
Safe
Top 20 (10 Men)
"My Girl"
The Temptations
8
Safe
Top 16 (8 Men)
"I'm Already There"
Lonestar
6
Safe
Top 12
The Rolling Stones
"Angie"
The Rolling Stones
11
Safe
Top 11
Billboard #1 Hits
"I Don't Want to Miss a Thing"
Aerosmith
4
Safe
Top 10
R&B/Soul
"Ain't No Sunshine"
Bill Withers
10
Safe
Top 9
Lennon/McCartney
"The Long and Winding Road"
The Beatles
1
Bottom 3
Top 9
Elvis Presley
"Blue Suede Shoes"
Carl Perkins
5
Safe
Top 7
Inspirational
"I Believe I Can Fly"
R. Kelly
4
Bottom 3
Top 6
Shania Twain
"You've Got a Way"
Shania Twain
5
Safe
Top 5
Frank Sinatra
"Fly Me to the Moon"
Kaye Ballard
1
Eliminated
Due to the judges using their one save on Michael Lynche, the Top 9 remained intact for an extra week.
After American Idol
Edit
Click "Edit" now to add information!
Discography
Edit
Aaron Kelly (2012)
"Here We Go: EP"(2013)
Ad blocker interference detected!
Wikia is a free-to-use site that makes money from advertising. We have a modified experience for viewers using ad blockers

Wikia is not accessible if you've made further modifications. Remove the custom ad blocker rule(s) and the page will load as expected.